Souper Cubes 2-Cup Tray with Lid (pack of two)
Introducing our new 2-cup Souper Cubes trays! These trays are perfect for freezing larger portions of stocks, and sauces, family size portions of sides, or even whole individual meals like shepherd's pie or deserts like a strawberry rhubarb crisp. 
The two cup tray comes with embossed fill lines at the  1-cup, 2-cup, 250mL, and 500mL marks. It also features our signature extra thick silicone and embedded steel rim for professional grade sturdiness in the kitchen. The snug fitting lid keeps our freezer odors, enables easy stacking, and is interchangeable with the lids from our original 1-cup tray.
Makes freezing and storing soups easy and convenient.
Each compartment has two fill lines on each side: ½ cup / 1 cup, and 125mL / 250mL. 
The sturdy wire-framed rim maintains the tray's shape, helping you move the tray with confidence and preventing spills.
Souper Cubes® is designed by Souper Products LLC in California. Patent Pending.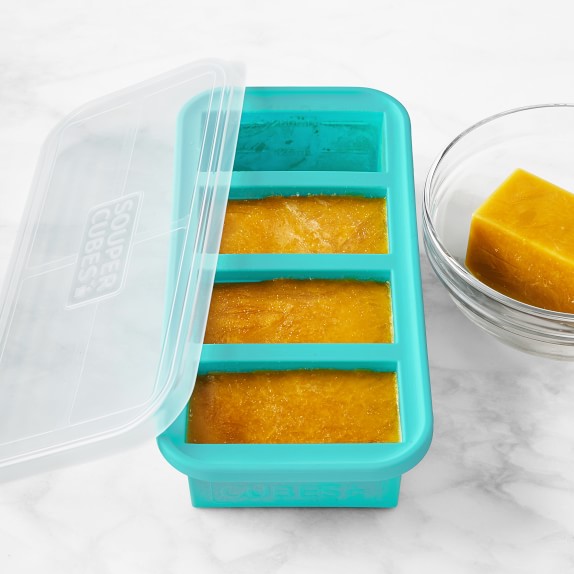 Souper Cubes Story
Food played an integral role in the lives of Michelle and Jake. To them it was about connecting back to their families' traditions.

Whenever they would make their family chicken stock recipe, they always encountered the same problem: how do we freeze our soup so that it's easy to use again later?

Michelle and Jake created Souper Cubes® to make freezing and reusing soups and stocks easy, convenient, and fun.
BE SURE TO CHECK THEM OUT HERE >