Universal Yums sends snacks and candies from around the world directly to your door for a one-a-kind experience that mixes the fun of food and exploring into one tasty box. Universal Yums is dedicated to helping customers discover the true culture of different countries across the globe through expertly sourced sweet and savory snacks.
In addition to unique tasty treats, each Universal Yums subscription box comes with a 12+ page guidebook to amp up the adventure and deliver a full cultural experience. Each interactive and educational book is filled with trivia, recipes and more!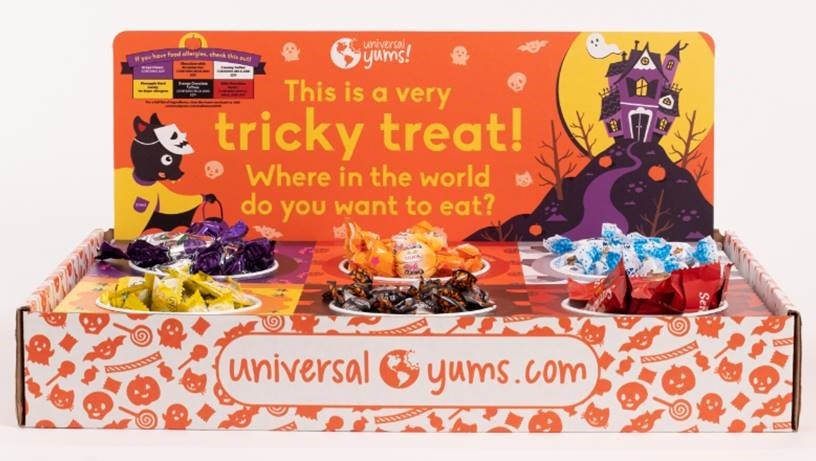 300 popular candies from six countries: Orange Toffee (Spain), Pineapple Salt Candy (Thailand), Milky Splash Toffee (Ukraine), Strawberry Popping Chocolate (Italy), Sour Grape Chewy Candy (Colombia), Milk Chocolate Wafers (Greece)

Each box comes with a guidebook featuring trivia, recipe and more spooky fun facts from each country

Easy to assemble tray and display for trick-or-treaters or party guests
How it works
Start
Sign up for a subscription and automatically receive boxes each month until you cancel. Or, give as a gift for either 1, 3, 6 or 12 months.
Ship
The ship date of your first box can be seen during the signup process. Future boxes will ship on the 15th of the month, and you'll receive an email with tracking information every time your box ships.
Snack
Receive your box of Yums and enjoy the adventure! Feeling full? You can easily cancel your subscription with our one-step cancellation process. Not that you'd want to!