HOW CHUM IS MADE
At CHUM we are 100% wild, and 100% natural. We don't use fake stuff. If it's good for wild animals, it's good for us.
We take real fruits as nature intended, and carefully turn them into our delicious bites.
No artificial ingredients and no added sugars or colors.
Step 1 – We pick fresh fruits in season and use them in their rawest form.
Step 2 – We bake it slowly at a low temperature, making sure we retain all goodness of nature.
Step 3 – We shape them carefully into your favorite fruit bites.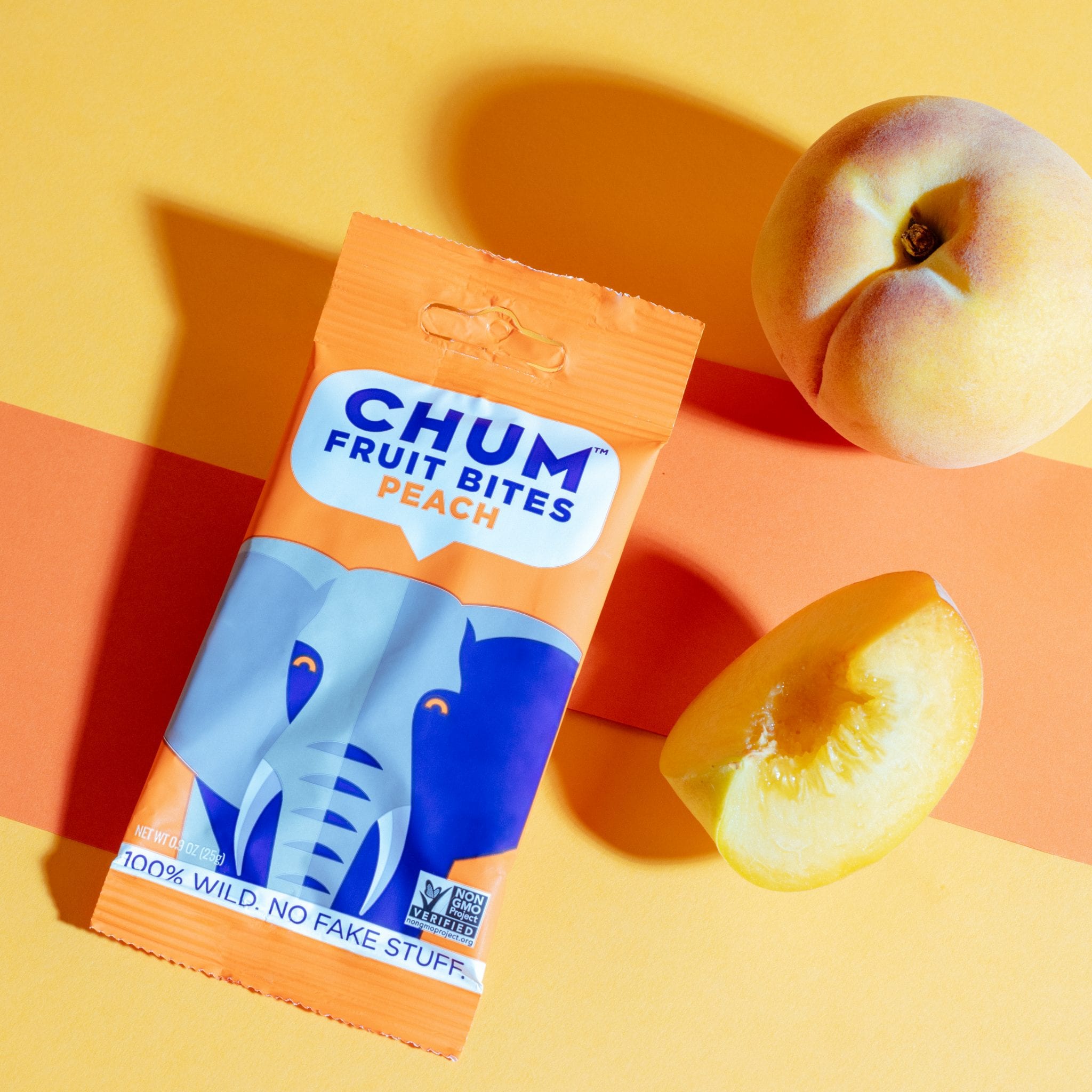 GOOD FOR YOU
We retain all the natural goodness; vitamins, minerals, plant proteins and fiber
A high fiber content slows down the absorption of sugars into the bloodstream ensuring a more gradual release of energy
The fruit snacks today are not natural and diluted with preservatives, concentrates, added sugars and gumming agents. All boiled at high temperatures which makes it quicker, cheaper and easier to make but that much harder to digest
We at CHUM want to change that


Not only are they delicious, but they're also Vegan, Kosher,  Gluten-Free, and Non-GMO

GOOD FOR THEM

We are inspired by nature. We believe only the simplest, purest ingredients are good enough for you. 100% WILD. NO FAKE STUFF.

And while we are at it we'd like to celebrate our brand heroes… the beautiful endangered species that need our awareness and conscious efforts to make sure that future generations will enjoy their splendour.
100% Fruit
No added sugar
High in fiber
A Cup of Fruit
CHUM IS NATURAL
45% SUGAR
INGREDIENTS
Juice from Concentrates (Grape, Peach, Pear and Pineapple), Corn Syrup, Sugar, Modified Corn Starch, Fruit Puree (Grape, Apple, Strawberry and Raspberry), Gelatin, Citric Acid, Lactic Acid, Natural and Artificial Flavor, Ascorbic Acid (Vitamin C), Coconut Oil, Sodium Citrate, Carnauba Wax, Tocopherol Acetate (Vitamin E) Red 40 (Color), Yellow 5 (Color), Blue 1 (Color), Vitamin A (Vitamin A Palmitate and Beta Carotene).
50% SUGAR
INGREDIENTS
Sugar, Grapes From Concentrate, Maltodextrin, Corn Syrup, Pears From Concentrate, Partially Hydrogenated Cottonseed Oil, Carrageenan, Citric Acid, Acetylated Mono and Diglycerides, Sodium Citrate, Malic Acid, Xanthan Gum, Vitamin C (Ascorbic Acid), Locust Bean Gum, Natural Flavor, Potassium Citrate, Color (Yellow 5).
52% SUGAR
INGREDIENTS
Fruit and vegetable juice from concentrate (apple, grape, carrot, sweet potato), corn syrup, sugar, modified food starch (corn), gelatin, citric acid, natural flavor, acerola extract (vitamin c), sodium citrate, white mineral oil, carnauba wax.
67% SUGAR
INGREDIENTS
Organic Apple Puree Concentrate, Organic Apple Juice Concentrate, Organic Natural Flavors, Malic Acid, Pectin, Colored with Fruit and Vegetable Juice, Organic Sunflower Oil, Organic Carnauba Wax.
75% SUGAR
INGREDIENTS
Organic TapiocaL Syrup, Organic Cane Sugar, Organic Tapioca Syrup Solids, Organic White Grape Juice Concentrate, Pectin,Citric Acid, Ascorbic Acid, Color (Black Carrot Juice Concentrate), Natural Flavors, Sodium Citrate, Organic Sunflower Oil, Carnauba Wax (From Palm Leaves).
71% SUGAR
INGREDIENTS
Apple puree concentrate, pear puree concentrate, strawberry puree, natural strawberry flavor, lemon juice concentrate.
41% SUGAR
INGREDIENTS
Apples, Pears.