Old Trapper Debuting Quarter-Pound Beef Jerky Bag at NACS Show 2019
50th Anniversary Celebration Continues with New "Big Bag" in Clear-View Packaging
Forest Grove, Ore. – September 2019 – While the snacking competition continues to embrace the trend of decreasing product size to keep their price points steady, Old Trapper has just released a new "Big Bag" of its popular beef jerky. Weighing in at a full quarter pound, the Big Bag features clear-view packaging so consumers can see exactly how much more beef jerky they are getting for their money. Old Trapper will officially unveil the new Quarter Pound Big Bag at the NACS Show 2019 in October.
According to an October 2017 Dallas/Fort Worth "NBC News" report, "Consumer advocates say grocery store product sizes are shrinking while the prices are not." An expert tapped by the news station states, "Manufacturers like to keep prices seemingly stable while increasing their bottom line. How do you do that? The only way you can is to shrink the product. But when they do it deceptively where the package looks just like it always did but they are giving you less, that's a sneaky way to pass on a price increase.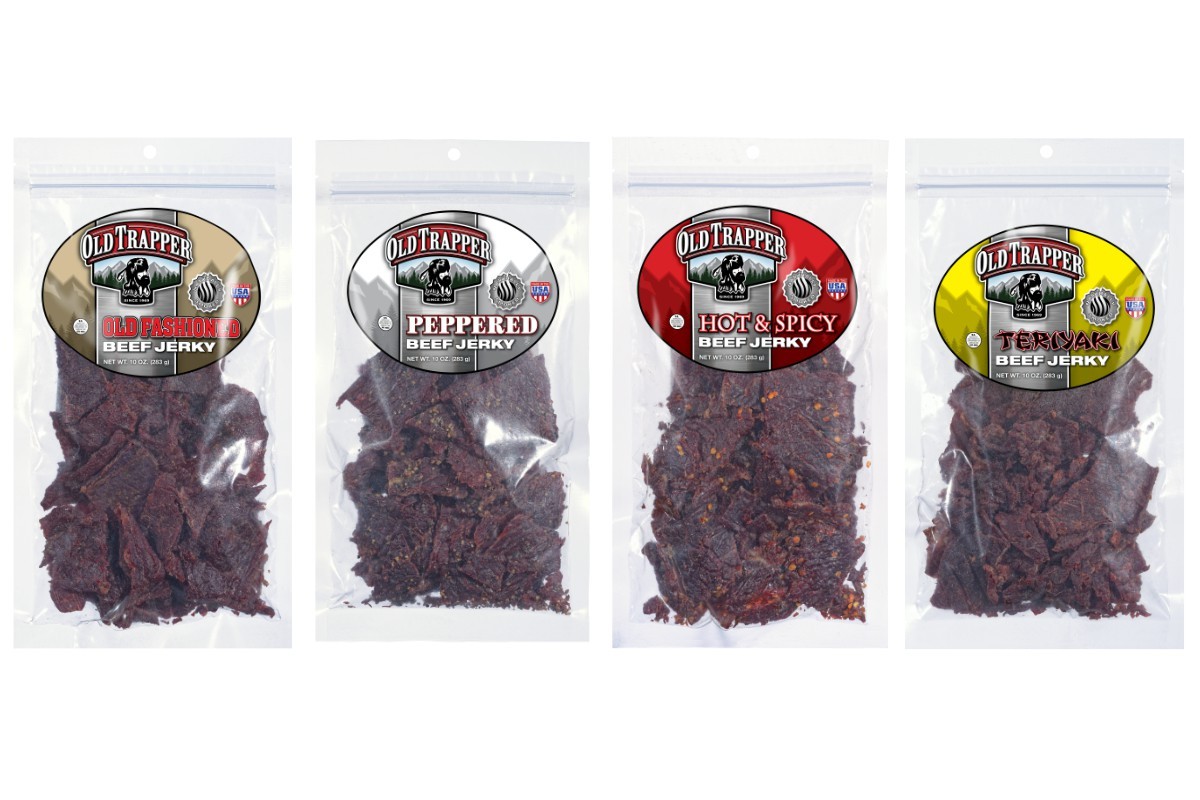 Not only is Old Trapper now offering a bigger bag of its popular beef jerky, but the company is openly communicating exactly how much of the product is inside. "We believe that people who buy beef jerky should be able to see what they're buying and get what they pay for," explains Robert Leary, Director of Marketing at Old Trapper. "We are not following the current trend of shrinking quantities and instead we are giving consumers a large amount of quality product for a fair price." To that end, the Quarter Pound Big Bag of beef jerky comes in a clear-view bag that clearly shows Old Trapper's customers that what they are purchasing is the highest-quality product.
It is customer commitment like this that has led beef jerky lovers to come back to Old Trapper time and time again over the last half century. Backed by consumer loyalty and trust, the company is currently celebrating their 50th anniversary. The next stop on the celebratory wagon is the NACS Show 2019where Old Trapper will be exhibiting at Booth #6033. Slated for October 2–4, 2019 at the Georgia World Congress Center in Atlanta, the expo is loaded with new innovations, products and services, making it the ideal forum for unveiling Old Trapper's Quarter Pound Big Bags.
About Old Trapper Smoked Products
Old Trapper Smoked Products has produced its signature line of authentic handmade beef jerky from its headquarters in Forest Grove, Oregon since 1969. That 50 years of experience, complemented by continued investments in state-of-the-art processes, result in top-quality products that are distributed nationwide. A family-run business, Old Trapper offers a full line of naturally smoked meat snacks using only the best lean strips of beef, the highest quality seasoning ingredients and real wood-fired smoke. For more information, please visit www.OldTrapper.com.