From a CrossFit trainer with Crohn's disease and a gourmet chef
with Type II Diabetes, the story of Bubba's is as unconventional as our snacks.
Grain Free Snacks That Taste Naughty but Play Nice.
Are you sick of fake snacks full of artificial ingredients you can't pronounce? Or, maybe you just can't find a healthy snack that tastes more than seasoned cardboard. Bubba takes the frustration out of your snacking with mouthwatering, real-food snacks. With low-sugar, green bananas and real-food seasonings, Bubba finally combines healthy ingredients with big, bold flavor.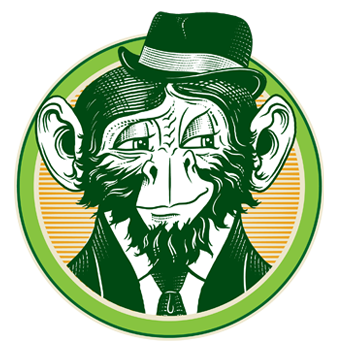 Everyone has a Bubba. For some of us, it's a child. For some, a grandparent. For others, a pet. At Bubba's, it was our co-founder, Jared Menzel, who was nicknamed Bubba as a child. 
For those of you who have been with us a while, you'll know that we swapped out the oh-so-suave bearded Bubba with the more appropriate banana-loving monkey. A little naughty and a little nice, Bubba is revolutionizing grain-free snacking all over the US. 
SEA SALT SIMPLICITY
Four ingredients. One finger-licking snack.
With only bananas, coconut oil, sea salt, and apple cider vinegar, Bubba's Classic Sea Salt 'Nana Chips will cure any salty snack craving without any of the ultra-processed ingredients.
'NANA CHIPS
Banana Benefits. Potato Chip Taste. 
Tired of snacks full of ingredients you can't pronounce? Or, perhaps clean ingredient kale chips just aren't your thing anymore? Bubba's paleo banana chips are full of easy to read, real ingredients, and they taste just like your favorite potato chips.
These snacks may taste naughty, but Bubba only picks ingredients that play nice. 
Grain Free. Gluten Free. Paleo. Vegan. Non-GMO. Kosher. No Added Sugar. No Soy. No Dairy.
Potato Chip Taste. Banana Benefits.
Grain Free. Gluten Free. Paleo. Vegan. Non-GMO. Kosher. No Added Sugar. No Soy. No Dairy.
Salty and cheesy with the perfect kettle cooked crunch, these Not-cho Nacho grain free banana chips are not meant to be shared. There's too much vegan, cheesy goodness in every bag that sharing is nearly impossible. Don't worry. We won't tell anyone.