lil'gourmets is the first fresh organic veggie meal; the chef-inspired recipes make vegetables the star with 70-95% veggies and complex spice blends for delicious flavors your child will love. Conveniently shipping nationwide, everyone can enjoy the convenience of delicious prepared veggie meals that taste like you made them fresh today. USDA Certified-Organic, Plant-based, Non-GMO, Vegan, Gluten-Free, Cold-Pressure Processed
Delicious blend of sweet potatoes, coconut milk, spinach, lemon and lime juices, and a hint of spice
Contains 8 3.5oz chef-inspired veggie meals – perfectly sized for baby meals or toddler side dishes/snacks

Veggie-focused: our Sweet Potato Curry is ~85% veggies with only 4g of sugar

Always fresh, always organic: perishable meals with no preservatives, and never added salt or sugar

Enjoy the convenience of delicious prepared veggie meals that taste like you made them fresh today

USDA Certified-Organic, Non-GMO, Vegan, Gluten-Free, Cold-Pressure Processed
Your baby gets flavorful food in the womb. She gets flavorful food if nursed. Why don't we have flavorful options for when she starts eating solids? That question led me to start lil'gourmets.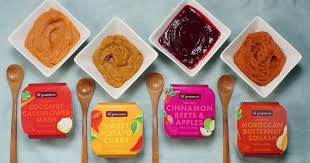 I was a working mom when I began introducing solids to my son, Jayden. I always assumed that I would feed him one of the prepared food options, given the demands of a career and being a new parent. When the time came, I opened my first jar of shelf-stable food, and it just didn't look, smell, or taste like a vegetable should.  I found the prepared baby food options to either be too sweet, too bland, and all over-processed.
So I began something I never thought I would: cooking all his meals, full of a variety of vegetables, grains, and spices.  As he got older, I saw the impact that the early introduction of delicious vegetables had on his palate … as a toddler, he ate a lot of veggies and really flavorful food.  I was so happy to be able to offer Jayden nutritious, flavorful food that he devoured, but the cooking and cleaning took away from my already limited time with him.
I decided to launch the food I made for him knowing there must be other parents like me, looking for truly nutritious, truly delicious, vegetable focused-meals that taste like they were made fresh that day.  Meals that allow parents to take a break from cooking their kids foods, without feeling like they are sacrificing taste or nutrition.
My daughter, Mira, now eats lil'gourmets almost every day and I am so happy that she gets essential nutrients and fresh, homemade taste even when I don't have time to cook. I hope you and your lil'ones love our veggie meals as much as we do!
With gratitude,
Mom to Jayden & Mira
Our products:
Fresh, refrigerated, organic products with clean ingredients
Vegetable-focused offerings (70-95% veggies & beans)
Naturally low in sugar via limited use of fruit
Complex, flavorful meals that both babies and adults find delicious
Designed to deliver essential nutrients today and develop healthy, adventurous eaters in the future
Perfect as a meal for a baby or a snack/side dish for a toddler
Never contain added salt or sugar
USDA Certified Organic, Non-GMO, Vegan, Gluten-Free, Cold-Pressure Processed
Our Packaging:
100% Recyclable
BPA-free
PVC-free
Free of phthalates
Promotes healthy eating and bonding
Shipping materials are all recyclable and/or biodegradable