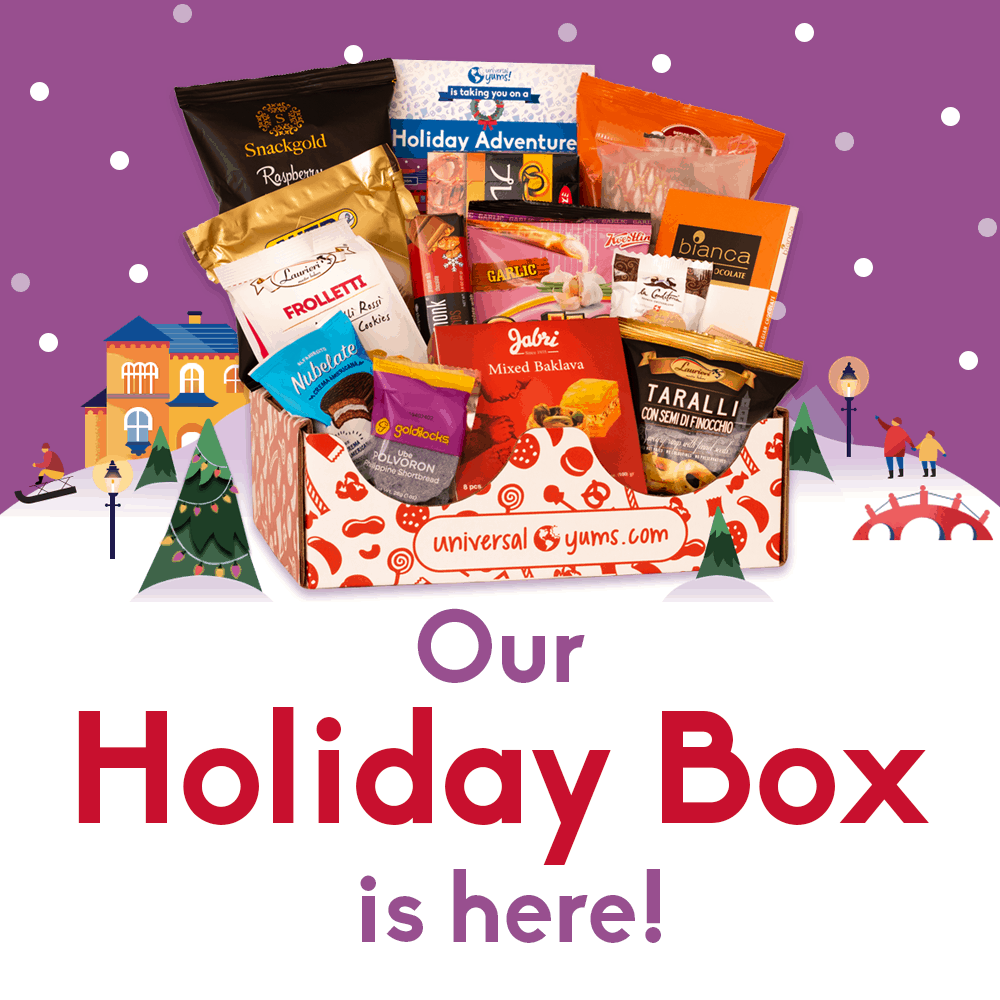 Snacks
from a
different country
delivered monthly
Universal Yums December 2019 Holiday Box 
What's in a box?
Snacks!
A variety of sweet and salty snacks are specially brought in from a different country every month.
A booklet!
A 12+ page booklet guides your adventure with trivia, recipes, and other surprises!
Amazing flavors!
Dozens of delightful new flavors to try, like these nutty, sugary, cinnamon-y cookies!
How it works
Start
Sign up for a subscription and automatically receive boxes each month until you cancel. Or, give as a gift for either 1, 3, 6 or 12 months.
Ship
The ship date of your first box can be seen during the signup process. Future boxes will ship on the 15th of the month, and you'll receive an email with tracking information every time your box ships.
Snack
Receive your box of Yums and enjoy the adventure! Feeling full? You can easily cancel your subscription with our one-step cancellation process. Not that you'd want to!
Why our customers love us
We use
Universal Yums
as a jumping off point to study culture, geography, literature, and music. It's been a great investment in our homeschool.
It's like Christmas every time a Yum Box arrives in our office!
Love how excited my son gets when this box comes in! It brings my whole family around the table, which doesn't happen too often.
My spouse and I make an entire date night of the box with authentic food, entertainment, and our delicious Yums!
Being a single mom of 3, this is a great activity for me and my children. It's fun and affordable!
Thank you so much for letting me and my grandmother travel from our living room every single month!