Home Good Design Brand Tsunami Slices Cooking Time in Half With a Sleek New Cutting Board
A Minimalist Design Consciously Created to Save Time, Make Cutting Safer, and Transfer Food into Pot or Plate Mess-Free
New year, new cutting board! The traditional household cutting board has been reinvented by Tsunami, (
https://tsunamicuttingboard.com/
), debuting its first product for 2020. The Tsunami Cutting Board® was designed and engineered with a revolutionary wave on one side to help manage your food preparation. Available for $14.99 on Amazon Prime (
https://www.amazon.com/tsunami
). The cutting board is mindfully made out of polypropylene plastic, the safest of all plastics and most commonly used for baby products. It is designed to fit in the dishwasher, durable enough to withstand heavy usage and comes with non-slip rubber feet so it stays in place while you work. The Tsunami Cutting Board® comes in four colors: blue, green, orange, and stone white. Whether making soups, stews, BBQs for Monday night football, or chopping ingredients for your favorite subscription meal box The Tsunami Cutting Board® will quickly become your new best friend in the kitchen.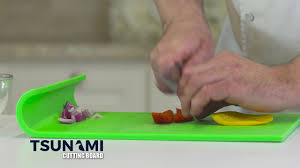 "Tsunami is focused on providing the most useful products for your home. I was cooking in my kitchen one day and decided there simply had to be a better way." states Jimmy Park, CEO of Tsunami " To make the first prototype I dipped a flat cutting board in boiling water so I could bend it and proceeded to craft the wave from hand. Thus the vision for the Tsunami was born. I spent the next 18 months to finally bring it to market learning everything from how to design it on the computer to 3D printing to manufacturing."
Engineered to be the fastest and most convenient cutting board ever created, The Tsunami Cutting Board® offers more surface space to slice and dice when prepping your favorite dishes. Instead of having the food sit in the middle of the cutting surface, simply slide your cut food over by the wave. It will act as a storage nook until you're done cutting the rest of your ingredients. Food clinging to your knife? Simply wipe the sides of your knife along the wave of the board and quickly get back to preparing your meal. Saving the best part for last, just lift the cutting board by the wave where the logo is, turn it slightly sideways and wipe all your food into its final destination. Ingredients will slide down the wave right where it needs to go without rolling off the sides onto your countertop or getting lost under the pan stand. Never leave an onion behind with the "two-hand scoop method" again.
"The idea came from cutting green onions. They roll all around, stick to the knife and are hard to move without dropping some," continues Jimmy Park creator and CEO of Tsunami. "I saw a few cutting boards that tried to solve the problem, but didn't do it effectively or had too many parts. I wanted to make it as simple as possible, but no simpler,"
Based out of Brooklyn, New York and founded in 2019, Tsunami is a forward-thinking leader in home good design bringing together innovation, design expertise, and functionality. Tsunami explores innovative approaches and emerging technologies to give consumers a product that is not only stylish but integrates mindful design into the consumer's day to day functions. For Tsunami functionality is key so our products are designed to fit the consumer's lifestyle and make life just a little bit easier. The Tsunami Cutting Board® features a revolutionary wave on one side to help manage your food preparation. Saving you time during your food prep but also with the looming dread of clean up. For more information visit 
https://tsunamicuttingboard.com/
.