Sure, we at GourmetGiftBaskets.com love Easter for its promise of incoming warm weather and fragrant new blooms, but most importantly, for the guarantee of these traditional sweets! With exquisite delights, like a gooey marshmallow Peep, lemoncello chocolate almonds, and delicately crispy cookies, this beautiful Easter themed gift crate is sure to make Easter morning one they'll never forget.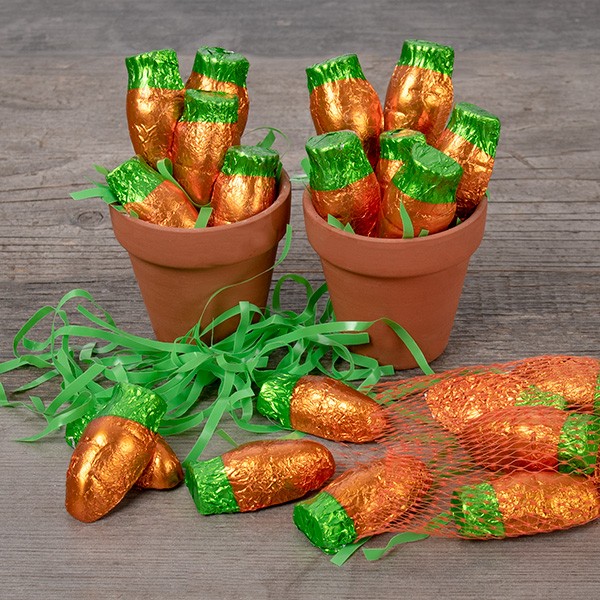 Keepsake Gift Crate – 1 crate – Sturdy wood crate painted white with Happy Easter themed graphics.
Sea Salt & Cracked Pepper Kettle Corn by GourmetGiftBaskets.com – 4.2 oz. – Gourmet popcorn that's sprinkled with sugar, drizzled with oil, and rolled in freshly cracked pepper and sea salt.
Solid Milk Chocolate Bunny – 2.25 oz. – This gorgeous bunny is made with solid milk chocolate and is a classic Easter favorite!
Key Lime Cookies by Byrd's Famous Cookies – 4 oz. – These delicate bite-sized cookies are bursting with fresh key lime flavors, tart and sweet!
Cookies & Cream Wafer Roll Petites by Dolcetto – 4.2 oz. – Chocolate cookie wafer pillow wrap with delicious cream center.
Lemon Wafer Rolls by Fusion Gourmet – 3 oz. – Rich, zesty lemon infused cream wrapped in a delicate European-style crispy shell.
Sea Salt Caramel Cookie Straws by Mississippi Cheese Straw Factory – 3.5 oz. – Crunchy and sweet caramel flavor with just a hint of of salt!
Key Lime Buds by Butterfields Candies – 1.75 oz. – Key lime flavored hard candies that will transport you to a tropical island upon first taste.
Double Crisp Chocolate Carrot Satchel – 3.35 oz. – Small carrots made from smooth milk chocolate that wrap around crunchy crisp rice.
Large White Marshmallow Bunny Peep by Just Born – 1.5 oz. – An oversized version of the Peeps marshmallows they love!
Lemoncello Chocolate Almonds by Sconza – 1.75 oz. – Almonds cloaked in a white chocolate and lemon cream. The perfect citrus and sweet combination.
The WOW Experience
For over a decade, GourmetGiftBaskets.com has aimed to stand apart from the competition. From a seamless order experience, to an unparalleled selection of gift baskets, our #1 goal is to wow our customers. Watch this short video to learn more about how our gift baskets are developed.
FAMILY OWNED & DEDICATED TO

Gourmet

GIFT BASKET DELIVERY FOR ALL OCCASIONS
HANDMADE
DAILY
WOMAN OWNED
FAMILY BUSINESS
ON-TIME
DELIVERY