After trying out PeachSkinSheets for an entire week, I can honestly report that I've never slept so well! Not only are these sheets light, and soft, but they regulate the perfect temperature all throughout the night, making for an uninterrupted night of peaceful slumber! Affordable, and functional~ I will never EVER use anything else.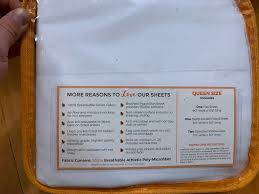 20 WAYS TO HELP YOU SLEEP AT NIGHT
Benefits of The Original PeachSkinSheets®Performance Sleep Fabric
5
Softness that counts
Reversible brushed PeachSkin finish on both sides for extraordinary level of 1500 thread count softness
6
Sheets that fit
18″ Deep pockets with elastic all around will fit memory foam, custom number and double pillow top mattresses
7
Pill-Resistant
Resists little balls (Rolly-Pollies) on fitted sheets
8
Strong and Durable
Stands up to kids, pets and years of daily use
9
Always Ultra Soft Right Out of the Package
No need to "break them in" and soften with numerous washings
10
Anti-Slip, Non-Sateen Finish
That means softness without slipping or sliding off your bed
Spandex-free
Spandex-free so that rough skin and callouses don't snag fabric
11
Wrinkle Release
Comes out of dryer with no wrinkles for a neatly made bed
12
Hypoallergenic
Great for allergies, sensitive skin, eczema
13
Anti-Microbial
Anti-microbial to prevent dust and pollen from adhering to fabric and aggravating allergies/skin issues
14
15
Color that lasts
Colors will not fade, whites will not gray or become dingy from laundering
16
Stain resistant
Naturally stain resistant due to its wicking capabilities. Stains don't set as quickly!
17
Fast drying
Dries super fast on medium heat in 20 minutes
18
No shrinkage
That means no fighting down the road with your fitted sheet to make it fit
19
Protect against pet hair
Pet hair does not "weave" itself into fabric, and high performance yarns offer better protection against claws
TRY THE BEST BEDDING FOR NIGHT SWEATS
Order a free swatch and feel the difference for yourself.
SHOP HERE