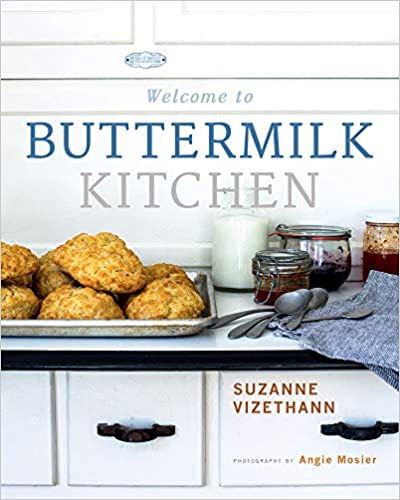 100 farm-to-table breakfast, brunch, and lunch recipes with a modern Southern sensibility.
Redefine the culinary boundaries of breakfast, brunch, and lunch. 100 recipes designed for the home cook using traditional cooking techniques and farm-fresh ingredients, Welcome to Buttermilk Kitchenincludes all-time regional favorites, as well as pantry and refrigerator staples like granola, preserves, pickles, and other condiments. There are pastry recipes, beverages, vegan and vegetarian options, and a leftovers chapter.
Welcome to Buttermilk Kitchen joins the trend toward healthier comfort food, balancing traditional dishes that use the very best seasonal ingredients, and creative recipes incorporating new spices and flavor combinations. Many of the dishes work for lunch or dinner, as well as breakfast or brunch. It is a cookbook that home cooks will find they can use every day of the week, any time of the day or night.
Suzanne Vizethann earned a degree in hospitality from the University of South Carolina and trained in several kitchens with "Top Chef" winner Richard Blais. She won the Chopped competition on the Food Network cooking competition show, owned the small restaurant The Hungry Peach, and now is the chef and owner of the award-winning Buttermilk Kitchen. She lives in Atlanta.
Angie Mosier is a photographer with a journalist's approach and a culinary background, collaborating with such cooking luminaries as Eric Ripert (Avec Eric) and Virginia Willis (Lighten Up Y'all – a James Beard Award Winner). She is also a food and prop stylist and has worked on Vivian Howard's Deep Run Roots and Reese Witherspoon's Whiskey in a Tea Cup. She lives in Atlanta.
The Book
For years, there has been a lot of interest in how we do things at Buttermilk Kitchen. Customers inquire about our recipes, want to buy our homemade jams, or learn how to make our biscuits. Ultimately, people want to recreate the dishes they wait in long lines for week after week. My hope is to empower readers to make delicious, company-worthy food in their own homes, and, of course, to have fun while doing it. I want to share the lessons I have learned along the course of my exhilarating culinary journey. My greatest honor as a chef is to share the magic of Buttermilk Kitchen with homes around the world. From our kitchen to yours!
NOW YOU CAN COOK LIKE
Chef Suzanne Vizethann