ALL IN ONE, PLANT BASED NOURISHMENT
The US population is mostly overfed and undernourished. We strive to make delicious food that delivers high quality nutrition and is easily accessible, recognizable, and digestible.
All of our food is:
100% plant-based
Made with sprouted organic ingredients
Never pressurized or treated with chemicals/preservatives
Free of GMOs
Our packaging is also 100% recyclable!
Our OverNights are raw, whole food, plant based breakfasts. Simply add mylk, store in your fridge overnight, and enjoy in the morning! We're also working on a shelf stable product line made from raw fruits, vegetables, and superfoods. The kicker? We don't use any preservatives, and never heat or cook the ingredients.
Feel free to reach out if you have any questions or feedback. Otherwise, stay healthy and nerd on!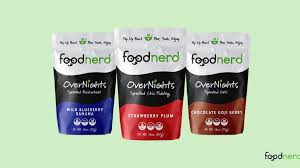 Wild Blueberry Banana Chia Pudding
Foodnerd uses REAL fruits to flavor our foods. When you open up your OverNights you will see the antioxidant queens (wild blueberries), and Vitamin B6 rich Bananas