Cookies and Cream Cupcakes in a Jar
For those who truly love cookies & cream cupcakes, we've taken the beloved rich dessert flavor and situated it inside a jar for the outcome is a creation with maximum flavor and added convenience. 
We took Oreos, the classic crème filled chocolate wafers, and combined it with our mouth-watering signature chocolate ganache cake made from scratch from the finest ingredients we can find! It was one of our most daring kitchen experiments but it paid off tenfold with this delightful new dessert creation. 
It's an original, beautifully simple mix, and yet the subtle flavors and texture make for an exquisite dessert most would call pure perfection. Put yourself in heaven savoring the rich, moist chocolate taste mixed with the sweet, soft creamy texture. 
Surprise someone special, or give yourself the treat you deserve, with these delectable jars of pure bliss!
Note:  Top frosting only used for the photo.  The jar levels are as follows from bottom to top.  Cake, Frosting and Cake.
6 oz Heavy-wall Plastic Jar (School approved)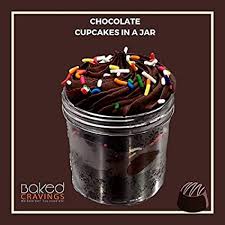 Shipping Info
Ships in an insulated cooling pouch with ice packs. It's normal for the product and ice packs to partially or fully thaw during shipment. Upon receipt, please refrigerate or place in the freezer.
Cupcakes in a Jar and brownies will stay fresh in the fridge for 5-7 days or can be stored up to 2 months in the freezer.
If you are ordering for a time-sensitive event our bakery strongly recommends scheduling your order to arrive at least 1-2 days before you will be serving the item. Baked Cravings is not responsible for delays in transit once your package has been transferred to UPS or USPS.
You will receive a tracking confirmation email when you order has shipped. Please track your package for arrival.  Packages should not be left out in extreme heat.