We

believe the journey to a better life starts with better food. That's why we travel the globe to find better ingredients so we can provide you with better food choices… because we know that life is better when you eat better.
TURMERIC & PEPPER RANCH DRESSING
It's good as gold—this tangy plant-based ranch teems with the exotic flavors of golden turmeric and black pepper.
Ingredients
Water, Avocado Oil, Apple Cider Vinegar, Coconut Palm Sugar, Bean Flour, Whole Oat Flour, Sea Salt, Natural Flavors, Lactic Acid, Coconut Aminos, Cultured Dextrose, Turmeric Powder, Tea Extract, Ground Black Pepper, Onion Powder, Garlic Powder, Xanthan Gum, Dill.
AVOCADO OIL CHIA RANCH
Small but mighty chia seeds pack some extra nutrition into this dreamy plant-based dressing.
IngredientsWater, Avocado oil, apple cider vinegar, coconut palm sugar, bean flour, whole oat flour, chia seeds, sea salt, natural flavors, lactic acid, coconut aminos, cultured dextrose, tea extract, onion powder, garlic powder, xanthan gum, ground black pepper, dill.
Made from some of the most delicious avocados on earth, our all-purpose avocado oil can be used for cooking, baking, sautéing and deep-frying. In fact, it's the king of oils when it comes to the smoke point – an impressive 500 degrees Fahrenheit. Plus, it's a great way to add monounsaturated, or 'better for you', fat to your diet.
IngredientsAvocado Oil
CHIPOTLE LIME SPREAD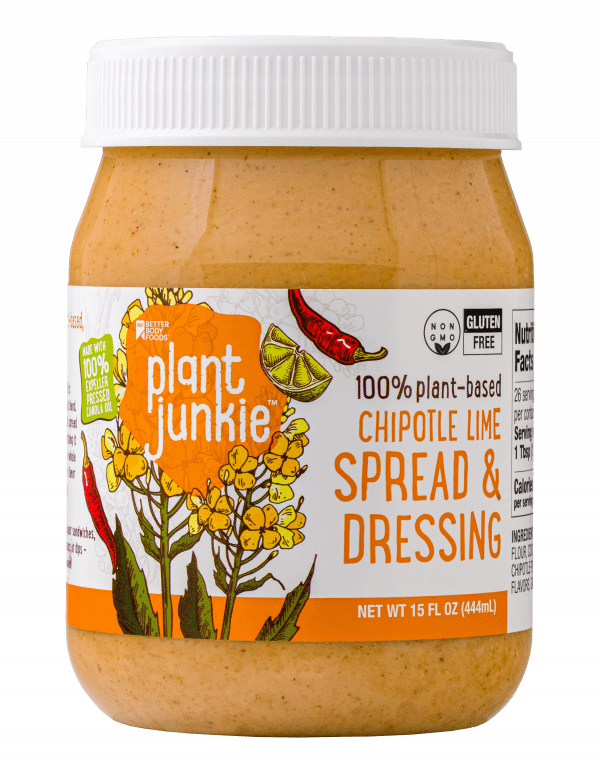 Taste the difference with garden-fresh chipotle pepper, a twist of fresh lime, and rich expeller-pressed canola oil in this flavor-packed spread.
IngredientsCanola oil, water, distilled white vinegar, bean flour, coconut palm sugar, salt, lime juice, ground mustard, chipotle powder, tea extract, paprika, xanthan gum, natural flavors, garlic powder, onion powder, lime oil.