Using a family recipe inspired by 1950's Brooklyn, and perfected on the east end of Long Island, we promise to deliver you the most delicious crumb cakes on the market. Our cakes are moist, the crumbs are piled on, and we only use high quality, all-natural ingredients.
Back in the day, in New York City, Crumb Cakes were king. All it took to get a good one was a short walk down the block in Brooklyn to our local bakery. Boy have things changed. Now it's hard to find a good crumb cake. And the ones that are easy to find can be dry, skimpy with the crumbs, made from artificial ingredients, and lacking imagination. Well, we intend to change that with our superior crumb cake delivery services and family recipes.
Simply put, crumbs are our passion and we sell some of the best coffee cakes online. Our crumb cake delivery is available in a variety of unique flavors from Classic, Blueberry, Salted Caramel, Blackout, & Brooklyn Joe. We even have a Gluten Free cake. Plus, we are always working on limited edition and seasonal flavors to share with you. Our cakes are available as either a traditional cake or our famous Crumbkins, which are one of a kind miniature crumb cakes.
We've changed the crumb cake delivery game. But don't take our word for it, come take a trip down Clarkson Avenue with us — your taste buds will thank you as you enjoy some of the best coffee cakes online!
About Clarkson Avenue Crumb Cake Co.
Growing up in Brooklyn during the 1950's it was a much simpler time, not carefree, just simpler. As kids, we found pleasure in the small things, a "Spaldeen" with a good bounce, a sack of marbles and bottle caps to play "skully". It was a time when baseball players were guys that lived in your neighborhood and played ball for a job. When sitting on your stoop with friends and family watching the cars go by instead of T.V. was the norm. A time when your telephone number began with a word rather than numbers- "Dickens 5!" Enjoying all the treats your neighborhood had to offer. A good dill pickle, a great knish, Brooklyn pizza… and, oh yes, New York Crumb Cakes.
The "gang" on Clarkson Avenue loved this stuff. It was a special, pure pleasure that the family enjoyed together… especially picking the crumbs off the cake. Over the years, it just seemed like we couldn't get the same kind of New York crumb cake we had as kids. So at the Clarkson Avenue Crumb Cake Company, we set out to fix that. And we did. Our cakes are moist, our crumbs are plump- the combination in our New York crumb cakes is perfection.
With our online crumb cake delivery, we invite you and your family to sit on our "stoop", grab some crumb cake, relax, enjoy the moment and create your own memories. Connect to a simpler time. A time not without its own issues but a time that a simple bite could make life seem like a piece of cake…
CELEBRATE WITH CRUMB CAKE
Perfect for a wedding, baby shower, birthday cakes, or any day you want to celebrate, Clarkson Avenue Crumb Cakes and Crumbkins make any day memorable and delicious.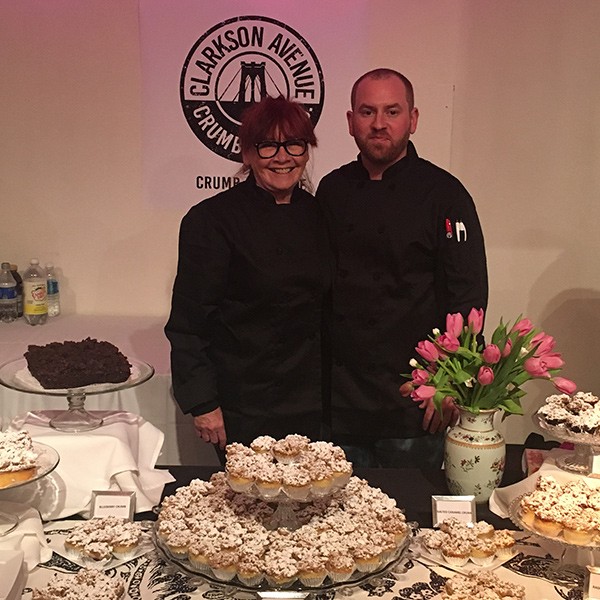 Armed with our family recipe, we are prepared to provide you with the most delectable crumb cakes around. With a wide variety of options, there is something that everyone will enjoy. Our Crumb Cake delivery game is strong. Don't believe us? Order and see for yourself!
You can find us around town at local Farmers Markets, celebrations or expose as we share the magic of Clarkson Avenue Crumb Cakes with you.  Want to connect in person or have a question?
Call Us at 833.33.CRUMB.
Clarkson Ave. Crumb Cake Co. is a family business owned and operated by the mother and son team of Susan and James Walsh. Susan grew up on Clarkson Avenue in Brooklyn, NY in the 1950's and 60's. Like in many parts of New York, the people in Susan's neighborhood took great pride in the food they created. This experience would forever shape Susan's culinary philosophy – that great food is the result of high-quality ingredients prepared with love.
Cooking always came naturally to Susan and she is revered among family and friends for her amazing food creations. And none more so than her crumb cake, which she created so she could share her Clarkson Avenue experience with her children. However, it wouldn't take long for Susan's crumb cake to become an obsession of not just her family and friends, but everyone who tried it.
James, who shares his mother's flare for cooking, naturally gravitated to a career in the restaurant industry, beginning at age 14 at the local bagel store. It's at this bagel store where James first came up with the idea to turn Susan's delicious crumb cakes into a business. Though Susan initially resisted, James could never quite let go of the idea. As his career progressed, he carefully studied what it takes to be successful in the food industry, and what he learned only strengthened his conviction. And after a mere 20 years of nagging, he was finally able to convince Susan to take her scrumptious cakes to market.
And thus, Clarkson Avenue Crumb Cake Company was born, with the goal of using high-quality ingredients to create exceptional crumb cakes just like the ones Susan grew up eating in Flatbush, Brooklyn. While Susan's recipe remains the basis for all their cakes, Susan and James have taken it and expanded upon it, pushing the creative limits of what a crumb cake can be. They've truly taken the crumb cake "game" to the next level and continue to challenge each other to create new and exciting flavors for all to enjoy!
Crumb Get Some.