If you can't get to New Orleans right now, ~ no worries, …thanks to Orleans Foods Beignet mix, those authentic New Orleans flavors can come to you! Light, tender, and fluffy Beignets at your sugar coated fingertips, anytime you'd like! I've had my share of Beignets, and I can tell you, these are the BEST!
Creating authentic New Orleans Beignets at home has never been easier! With so many of us staying home, and not traveling, Orleans Foods found a way to bring a the most popular piece of New Orleans to you~ BEIGNETS! – to your door, into your kitchen, and into your belly… where it belongs!
Orleans Foods Authentic Beignet Mix is a traditional baking mix that's more than just a beignet mix. It can be used in a variety of recipes to create the perfect dessert or breakfast treat.
100% Customer and Mom Approved. Enjoy the light and airy, angelic flavor that families have loved for generations!
You're the reason we put forth our best each and every day. Our vision for the future is one that realizes bringing our Creole family recipes to the comfort of your home. It's a Taste Of New Orleans that is filled with love and authenticity. To that end, our mission is simple: deliver a piece of heaven with bites of love to customers around the world. We think it's a winning formula, and we hope you agree.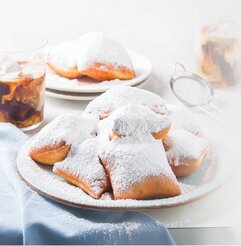 IRRESISTIBLY DELICIOUS. BE HAPPY