Crunchy, tasty, vegan-friendly and packed full of flavor, Sugar Plum's handcrafted Kettle-Cooked Pumpkin Spice Almonds are the undisputed taste-of-the-fall snacking champion!
Generously coated with specially-crafted and tailor-made blend cinnamon, ginger, nutmeg, and other exotic spices which tastefully amplify the nutty flavor of the almonds to craft a pumpkin spice flavor that is second-to-none.  The end result?  A taste of the fall that conjures up the finest taste of the crisp fall air and all of the memories that come with it in every single bite, these Kettle-Cooked Pumpkin Spice Almonds are simply too scrumptious to put into words, no matter how much we try! 
What's better yet?  Unlike other store-bought snacks, Sugar Plum's kettle-cooking process is dairy-free and devoid of unhealthy fats, oils.  Kettle-Cooked Pumpkin Spice Almonds are perfect guilt-free munchies for you to indulge in every single day and for all seasons – so go ahead and treat your taste buds with love because, after all, you'll never really know unless you try it out for yourself! 
Each and every order of these handcrafted Kettle-Cooked Pumpkin Spice Almonds includes five 3 ounce bags for your snacking and gifting pleasure! Ingredients: Almonds, Sugar, Pumpkin Pie Spice (Cinnamon, Nutmeg, Ginger, Allspice)
In 1995, Frann Edley began a candy business in Kingston, Pennsylvania whose mission was to give the world a little sweetness one bite at a time. Frann along with her son, Neil established the company with an unyielding focus on quality, service, and value which enabled them to quickly expand their mail order business.
For over 25 years, the Edley family has offered quality and premium chocolate confections to its clients. Using only the finest ingredients for our delectable treats, customers have responded by coming back for seconds, thirds, and more! One of our most popular items, the famous chocolate dessert tray, makes every occasion delicious and special!
Our vision has always revolved around being a creative, independent, female owned business. Our focus is to help make a difference in the lives of people by offering high quality and safe products that can be used for employee recognition, client appreciation, wedding, and numerous other events that touch our daily lives.
Sugar Plum's quality, service and commitment to offering only safe products, is second to none. We have been praised in a myriad of publications, including Women's Day magazine and Bridal Guide. Sugar Plum ships nationwide and has an easy to navigate website that is open for your shopping convenience 24/7, 365 days a year to support the buying needs of our customers and clients.
All of us at Sugar Plum have an instinctive pride in our gift baskets that are perfect for every occasion including Easter, Christmas, Hanukkah, Thanksgiving, Halloween, Secretary Day, Easter, baby showers, bridal showers, and other important holidays and events throughout the year.
We are here to help you customize a gift basket to fit your price range and holiday list!
We specialize in corporate chocolate gifts and large quantity orders. Contact us today!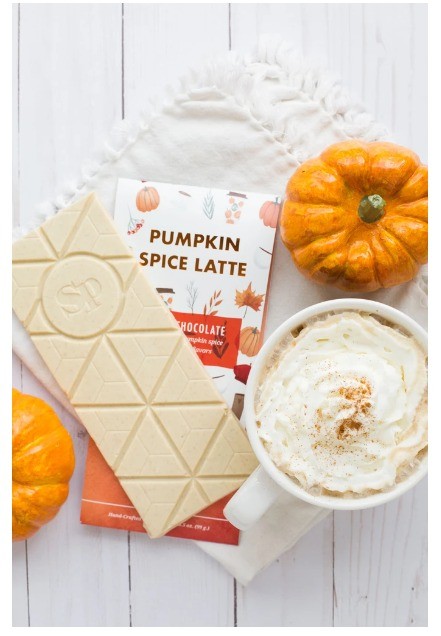 Your favorite fall beverage now has its own chocolate bar!
Enjoy the scrumptious blend of coffee and pumpkin that only comes around for just a short time each and every year – all without having to visit your favorite barista.
While we can't promise the same jolt that your morning coffee can offer, we are sure that our Pumpkin Spice Latte bar will be just what you need to indulge in that perfect fall confection!
Each order includes 4 three-and-a-half-ounce Pumpkin Spice Latte chocolate bars for your snacking pleasure!