The Classic Collection
$ 40.00
This is our original classic collection. 
Each bar is hand-crafted, with a beautiful artistic floral motif.  This is our 70% dark collection made with fair-trade Ecuadorian cacao. We call it our "truffle" bar because of its melt-in-the-mouth texture. Sweetened with just honey and infused with ancient Ayurveda superfoods.  
Our chocolates are raw and organic. They are free from dairy, refined sugar, soy, preservatives, gluten, palm oil, GMO and artificial anything.  
Made by meditators in micro-batches with high vibrational music playing in the background, as the chocolates are being made.
This pack contains a bar each of the following 6 signature flavors. 
3. Orange Quinoa with Turmeric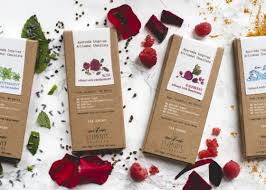 Our Story
Elements Truffles was born at the intersection of two things that make us happy – chocolates and meditation. We are an Ayurveda inspired line of clean chocolates that taste good and does good – for the body, mind and community. 
I was a trader on Wall Street. Everything was going well, but a sense of purpose was missing. I was good at what I was doing, but I felt I was meant to do something else. About 12 years ago, I learned to meditate. And as I grew in the practice, I became more aware of the food I was eating. I noticed that I was integrating a lot of elements of the Ayurvedic lifestyle, that was naturally a part of our life growing up. Ayurveda, also known as a sister science to Yoga was now taking me back to my roots. 
So I wanted to create a line of chocolates that are not only healthy and tasty but also integrated this beautiful science that focuses on bringing balance and simplicity in lifestyle. Our chocolates are handmade with just cacao and honey. They are infused with Ayurveda superfoods and pure essential oils, which lends to its unique flavor profile and melt-in-the-mouth texture. 
We take no shortcuts. Our purest ingredients have been selected from Fair Trade manufacturers that fiercely align with our philosophy. 
What makes our company special is the uncompromising attitude in making high-quality clean products. We donate 25% of our profits towards supporting the wholesome education of underprivileged children in tribal areas of India. For more details visitwww.careforchildren.org.
We pride in being a human-centric company, where people always come first. Because we believe that only happy people can make happy chocolates.