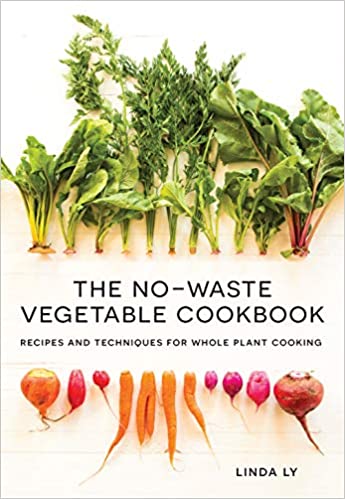 Isn't it about time to start nose-to-tail cooking with vegetables? Learn how to make the most of the edibles in your garden or the farmer's market bounty! 
The No Waste Vegetable Cookbook will help you cook your way through greens, beans, roots, and herbs with seasonal recipes that utilize every edible part of the plant. Author Linda Ly shares a wide variety of recipes and techniques from her popular CSA Cookbook, from creative pickling (think watermelon rind) to perfect pestos. Chapters and recipes include:
Tomatoes and Peppers: Spicy Minty Tomato Sauce Infused with Tomato Leaves, Spicy Fermented Summer Salsa, Ginger-Spiced Chicken Soup with Wilted Pepper Leaves, Blistered Padron Peppers and White Onions
Leafy Greens: Kale Stem Pesto Spring Bulgur Salad with Kale Buds, Stuffed Collard Greens, Potlikker Noodles with Collard Greens, Broccoli Green and Baked Falafel Wrap
Peas and Beans: Pea Shoot Salad with Radish and Carrot, Pan-Charred Beans with Bean Leaf Pesto, Yardlong Bean Curry with Wilted Spinach, Fava Leaf Salad with Citrus, Feta, and Walnuts, Charred Fava Pods with Parmesean
Bulbs and Stems: Fennel Front and Ginger Pesto, Kohlrabi Home Fries with Thyme Aioli, Leek Green, Wild Mushroom and Goat Cheese Crostini, Scallion Soup, Green Onion Pancake with Spicy Soy Dipping Sauce
Roots and Tubers: Carrot Top Salsa, Beetza Beetza, Quick-Pickled Sweet 'n Spicy Radish Pods, Savory Sweet Potato Hummus, Creamy Sweet Potato Soup with Maple Syrup, Hasselback Potatoes, Vietnamese Carrot and Daikon Pickles
Melons and Gourds: Watermelon Rind Kimchi, Stir-Fried Watermelon Rind, Gingered Butternut Bisque, Four Ways to Toast Pumpkin Seeds, Sicilian Squash Shoot Soup, Drunken Pumpkin Chili, Pan-Fried Cucumber in Honey Sesame Sauce
Flowers and Herbs: Chive Blossom Vinegar, Nasturtium Pesto, Cilantro Pepita Pesto, Chimichurri, Marinated Feta with a Mess of Herbs, and "All In" Herb Dressing
Whether you're excited to make the most of the farmer's market or use every bit of your garden's bounty, this is the book that keeps the food on your table and out of the trash can (or compost bin)!