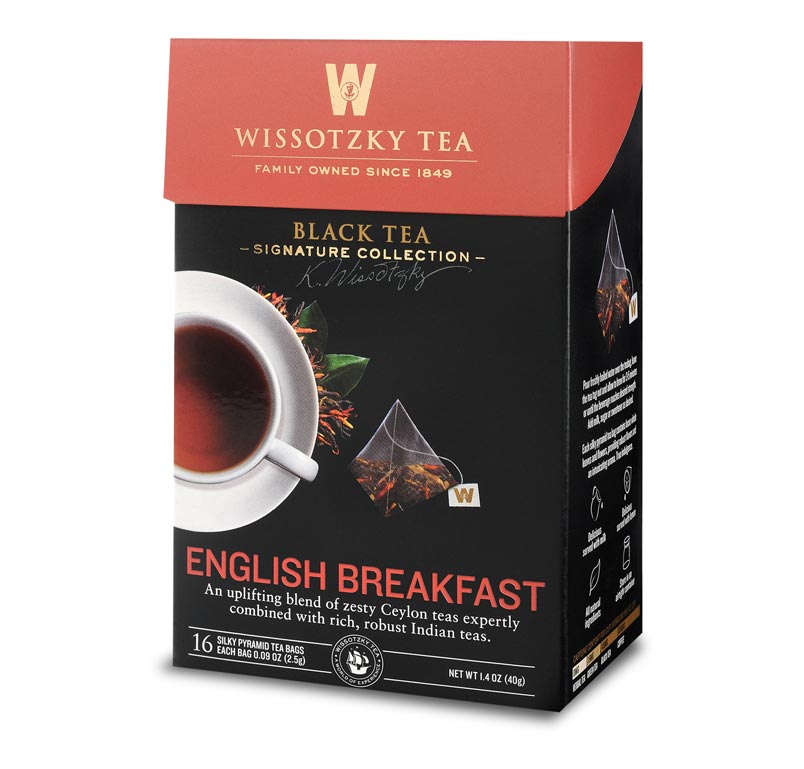 -ALL TEAS-
Our Signature and Journey Collections feature our finest teas. We source the best ingredients from every corner of the earth, and blend them with generations of expertise. So please, brew with only your finest water.
For teachers, service workers, and anyone who just needs a break – Who can say no to curling up with an intoxicating treat a chilly winter's night? Wissotzky Tea offers an amazing assortment of premium teas and blends from around the world, from classic black and green tea to artisan spiced chai to fragrant herb and fruit infusions. All are non-GMO, so you can be sure your comfy, cozy gift is also a guilt-free indulgence. (MSRP:4.99)
Available at:  ACME, Shaw's, Select Albertson's, Shop Rite, Stop & Shop, Wegmans, Kroger and AMAZON.
English Breakfast
2.5g  | 16 tea bags | Black Tea
An uplifting blend of zesty Ceylon teas expertly combined with rich, robust Indian teas.
The sun never sets on this bright and perky British blend of black tea leaves. Carefully selected by our tea experts from the best plantations of Ceylon and India, this fine tea is rich and complex yet perfectly balanced to refresh. Enjoy with or without milk and sugar.
WISSOTZKY: BORN WHEN A MAN
NAMED WOLF TOOK TO THE SEA.
It was 1849 and Klonimus Wolf Wissotzky liked tea. But he wanted to love it. He tried every tea in Moscow, but they all fell short. So he set sail on an unending quest to find the world's best ingredients.
Later, the Wissotzky Tea Company was the exclusive purveyor to a real tea snob—the Russian emperor. To satisfy the royal whims, and our own passions, we set out on expeditions to every corner of the earth looking for new flavors.
Since then we've moved our operations and won numerous awards from the connoisseurs of Europe and Asia. But mostly we've been choosing teas, blending them, cupping, and blending them again until they're teas we can truly love.
This unwavering commitment to quality has been driving us for over five generations, and we do it all so every customer's cup tastes remarkable.