If you think you've experienced decadent chocolate, regardless of how amazing it was.. I can tell you, it's nothing compared to Delysia! The quality of this chocolate is a visual and flavorful experience, all wrapped up in the most beautifully handcrafted edible works of art! They're almost too gorgeous to eat…'almost'!
Perfectly crafted for the Holidays, you won't go wrong gifting these to your closest friends and family! 
With street lights twinkling and sleigh bells ringing, the gifting season is in full swing. Make this Christmas extraordinary with Delysia Chocolatier's holiday-inspired chocolate confections as you create precious memories with your loved ones.
Experience the jolly flavors of the most wonderful time of the year in every bite of ourWinter chocolate truffle collection. With holiday delights such as eggnog and gingerbread decadently enrobed in gourmet chocolate, these chocolate treats fill your senses with pure merriment and joy.
Embrace your inner child with our Santa chocolate truffle collection as you savor all of Saint Nick's favorite treats. With classic sweets such as candy canes and sugar cookies wrapped in chocolate, reveal in the magical spirit of Christmas.
Sweeten your festivities with our seasonal molded chocolates for a delectable Christmas surprise. From our silky smooth milk chocolate Nutcrackers to the richly complex dark Christmas trees, each solid chocolate mold is handcrafted to impress everyone on your list.
Elevate your gifting this season with Delysia Chocolatier's handcrafted holiday confections.

Made local, with care
Our chocolates are handcrafted in Austin, Texas at our Culinary Center & Chocolate Boutique. Many include unique, local ingredients that are not available anywhere else. Relish in our passion for creating the finest quality and most unique chocolates available.
Handcrafted for you
As an artisan chocolatier, our award-winning chocolates are handcrafted with care and attention you can savor in every flavorful bite. We are passionate about creating preservative-free chocolates, handmade in the Parisian style, using only the freshest ingredients possible.
For everyone's palette
At Delysia, we believe that dietary restrictions should not hinder your ability to indulge. Over 80% of our chocolate products are kosher and gluten free. Vegan and dairy free chocolates, as well as custom collections can be tailored to meet specificdietary needs.
Freshest ingredients
Our products are handmade using fine quality, sustainable chocolate and only the freshest ingredients so you can enjoy chocolate near perfection. Delysia is the first chocolatier in Texas, and one of a very few in the U.S., to have a complete product line using ethically sourced cacao.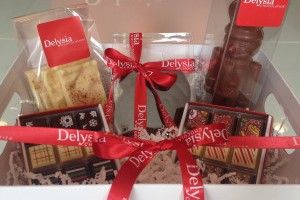 Every occasion and every day should be exceptional. At Delysia Chocolatier we use fine chocolates to create experiences. And these experiences are what make every day and any day extraordinary. It is about the way you feel, how you bring friends and family together and the memories you create.
Just like you, we understand the importance of being one of a kind. Our chocolates are just that. They are unique. They are memorable. They are remarkable. Take an ordinary day, add chocolate from Delysia Chocolatier and create an extraordinary experience.
We would love nothing more than to help make any day, any occasion, any moment remarkable for you.
Inspired by artisan chocolate shops in Europe, Chef Owner & Chocolatier Nicole Patelbegan handcrafting chocolate truffles as a way to relieve stress from her engineering job. Celebrating 12 years in business, Nicole was named 2020's Best Chocolatier in the Americas, as well as earned a Grand Master Chocolatier designation for the past eight years. Today, Nicole is utilizing her process efficiency skills in the kitchen and winning over chocolate lovers around the world.