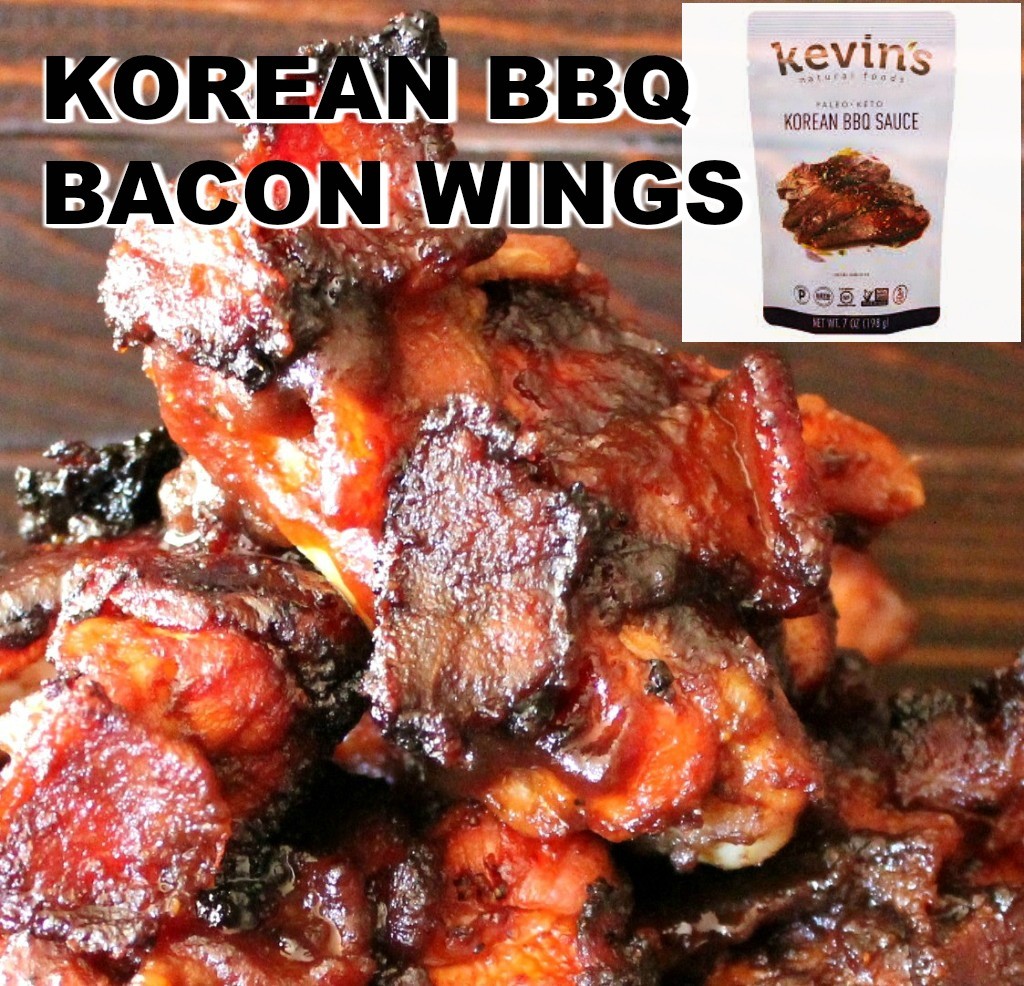 What you'll need:
15-20 Chicken Wings
1lb Applewood Smoked Bacon
1/2 Cup Molasses
1/2 Cup Brown Sugar
1 tbsp. Liquid Smoke
1 Pinch of Ground Ginger
1 Pinch of Garlic Powder
1 Pinch of Cayenne Pepper..to taste!
1 cup of Kevin's KOREAN BBQ SAUCE
S&P..to taste
1/2 Cup Water
A LARGE Zipper Bag!
Directions:
In a medium bowl combine the Kevin's Korean BBQ Sauce, Molasses, Brown Sugar, Liquid Smoke, Water and all the spices.  Mix until smooth and thick…
Chop up the Bacon into approx 1″ pieces…
Add the chopped Bacon and all of the wings into a large zipper baggie, pour 3/4 of the sauce into the bag, seal it..and smush to coat everything evenly.  Reserve the rest of the sauce for basting!
Spread the chicken in an even layer, onto a parchment lined baking sheet, make sure to top them with the Bacon pieces evenly.  Bake them at 400 degrees for at least an hour, or until the wings are dark and cooked through.  Baste them with some of the reserved sauce every 15 minutes and turn them around to keep them evenly cooked.
If you have a skillet..warm it up in the oven and serve them nice & hot!
Get yourself some Kevin's Korean BBQ Sauce, and make a HUGE Batch!
KOREAN BBQ SAUCE
A sweet and spicy Bulgogi sauce made with coconut aminos, garlic, and toasted sesame seeds. What's "Bulgogi" you ask? It literally means "fire meat", and can take your steak, chicken, or pork up to the next level.
Nutrition Facts
About 6 servings per container
Serving Size
2 tbsp (31g)
| | |
| --- | --- |
| Amount Per Serving | % Daily Value* |
Total Fat

1g
1%

Saturated Fat

0g
0%

Trans Fat

0g

Cholesterol

0mg
0%

Sodium

280mg
12%
| | |
| --- | --- |
| Amount Per Serving | % Daily Value* |
Total Carbohydrate

4g
1%

Dietary Fiber

0g
0%

Total Sugars

2g

Includes 1g Added Sugars

2%

Protein

0g
Vitamin D 0mcg 0% • Calcium 9mg 0% • Iron 0mg 0% • Potassium 39mg 0%
The % Daily Value (DV) tells you how much a nutrient in a serving of food contributes to a daily diet. 2,000 calories a day is used for general nutrition advice.
INGREDIENTS
Water, Coconut Aminos (Coconut Nectar, Water, Sea Salt), Coconut Sugar, Sesame Oil, Vinegar, Tapioca Starch, Lemongrass Puree (Lemongrass, Water), Yeast Extract, Ginger, Chilies, Cilantro, Dehydrated Garlic, Dehydrated Onion, Shiitake Mushroom, Toasted Sesame Seeds, Xanthan Gum, Citric Acid, Monkfruit Extract.
I Believe
Food Can Help
Us Feel Good
It gives us the fuel we need to do the things we want with the people we love. Food can also help you feel good when you're feeling less than average. That's how I discovered my joy for food.
When I was in My 20s
I got sick. Really sick. An autoimmune disorder threw my life off balance. I went from happy and healthy to in-and-out of the hospital struggling with conventional medicine. Nothing helped consistently until I discovered the power of a clean diet that is rich in whole foods and avoids refined sugar. It helped me reclaim my energy and return to good health
Clean Eating
is what our bodies were designed to thrive on. But clean eating has had a bad rap. It seems you have to pay for guilt-free meals with boring cuisine and a lack of flavor. I made it my mission to change this.
I Want You
To Discover
the same joy I found for food. I've made it easy with a range of quick to prepare entrées and sauces so that you can create meals at home that help you eat clean and live happy.