For over 60 years, Twin Dragon has been the premier choice for Asian wrappers and cookies. But these days, our products are more than traditional. From Italian beef won tons to avocado egg rolls – and even Almond cookie pie crust. There is no limit when it comes to the kitchen!
Crab Rangoon Egg Rolls
What you'll need for 6 egg rolls:
6 large Twin Dragon Egg Roll Wrappers
1- 8oz. cream cheese
2 cups Crab Rangoon Dip
2 cups Imitation Crab Meat
1 egg mixed w/ a splash of water for egg wash
Instructions:
Roughly chop up the crab meat.
In a med. bowl combine the cream cheese, crab rangoon dip, and chopped crab meat.. mix well.
Place 2 tbsp. of the mixture into the center of one egg roll wrapper, and brush the edges with egg wash.
Roll the wrapper up into an egg roll
Place them into an air fryer at 400 degrees for approx. 8-10 minutes.
Or until evenly golden.
Serve warm.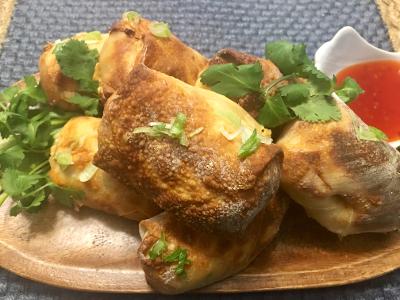 With asian dipping sauce, cilantro & green onions (optional) ~Enjoy! 🙂