Who doesn't enjoy the sweetest of treats when you have the serious munchies (not just on 4/20!) If you have not tried a Flour & Branch cookie, or stuffed cookie or stuffed french toast, you are missing out on life. Their San Francisco-based cookies are one-of-a-kind. Enjoy mouthwatering cookies filled with love and premium ingredients (and some even with rum!) Fresh-sourced ingredients, many of them local to the Bay Area, blended with the highest-quality Kerrygold butter, artisan flour, special vanilla extract, and fine chocolates result in cookies and other treats you can't help but crave! They use natural, organic, and sustainable ingredients. There's something for everyone – parents, kids, schools, corporations. She even offers an "Adults Only" line of cookies for rum and espresso lovers! Owner Lauren Arsdorff gift wraps every bundle and every single item. From the first bite to the last.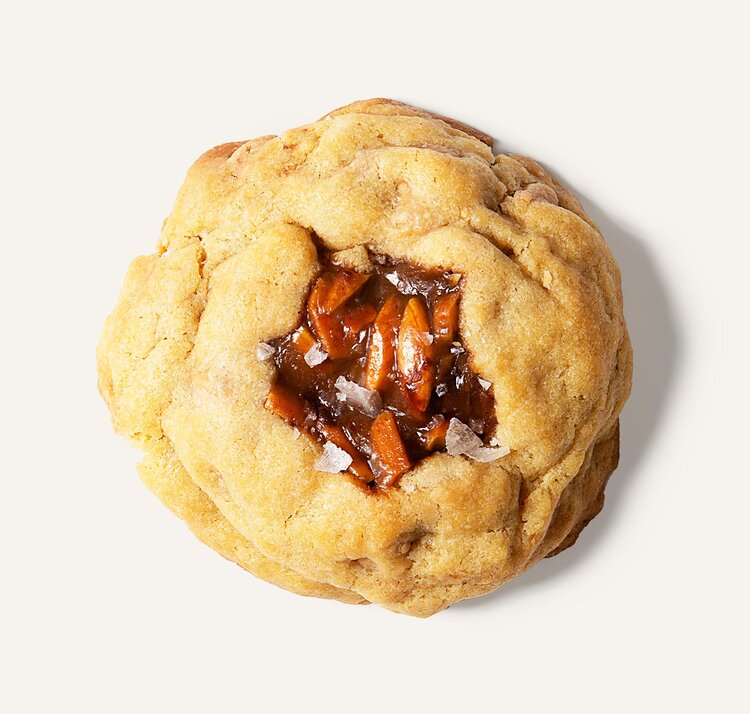 "O M G !! Typically when you think of cookies, and baked goods, a "WOW factor" isn't a big part of it. Eating the treats, and enjoying them are really all we think about…, until now.
From the packaging to the big cookie reveal, to your first bite, your mouth will hit the floor.. and "WOW" is all that will come out. These cookies literally took my breath away, from the second I saw them, until the last crumb. Not only are they HUGE, but they're unique, whimsical, filled to the brim with quality ingredients, and most of all DIVINE!
They're my #1 cookie experience to date! "
About Flour & Branch
Growing up in a home full of warmth and amazing food, Lauren always knew that baked goods were her way of making people feel cared for, included, and supported. She watched her mom and grandmother in the kitchen and learned how to knead love into the dough, to sift kindness with the sugar. And when she began to innovate her own unique bakes, they became the perfect gift to bring to a dinner party, to send with her husband to work, or to deliver to a friend in need of comfort.
How better to show affection and thoughtfulness than with one of a kind, handmade treats?
Everyone who tasted Lauren's unique bakes back then knew they were enjoying something special. Where other desserts were often too heavy, hers were wonderfully balanced, with an emphasis on natural, organic, and sustainable ingredients, whole grains, and artisan flavorings of the highest quality. And after over a decade of ideas, trials, and obstacles, she finally went all-in on her plan to bring her famous cookies, buns, cheesecakes, and other bakes to a wider audience.
Flour & Branch was founded in San Francisco in 2020 and from the very start it was conceived as more than just a bakery. Flour & Branch is an expression of love: for food, for the sweet tastes of childhood, for fresh, natural ingredients—and for you. Because that same sense of caring, joy, and inclusiveness that Lauren started out with is still baked into every bite—and into every interaction. From customers, to employees, to vendors and more, we want everyone to feel as seen, supported, and sustained as you feel when you bite into a special sweet treat baked just for you.
We're a female owned business.
We stand with you, and for you.
Love is love. Equality for all.
ABOUT LAUREN ARNSDORFF, OUR FOUNDER
In Lauren's words:
Before taking the leap to build Flour & Branch on my own, I was an industry leading marketer in retail finance. I loved it most of the time, but I've never felt more alive than when I'm obsessing over concepts for our Flour & Branch customers. These bakes are very personal to me, and I get how personal it feels to bring food into your home or the homes of those you care for.
Being a quality obsessed foodie while also being a perfectionist and a giver is really what paved my way to Flour & Branch. I was a "normal" kid growing up in San Diego, but right around my third birthday, I fell ill and was on the brink of dying. And after being held in a medically induced coma for many weeks, I had to relearn how to walk, talk, and "be" all over again. I was now missing parts of my fingers and I had scars that felt huge and highly visible to me. Doctors thought my development may lag, I was held back a grade, I had issues with my speech, I was bullied and excluded, tied to a tree, dragged across pavement by my ankles, choked and slapped, and I experienced a great deal of loss.
The worst experiences of my life shaped me into a highly empathetic, compassionate hustler of a woman who genuinely wants others to feel welcomed and loved. And when I reflect on the best moments of my life, I cherish the family dinners, the holidays at my grandparent's house in Coronado, summer days at the San Diego County Fair, brunches with friends, my first sushi date with my now-husband. It's all involved food and a reasonable amount of carbs! So naturally food is how I express my love and care for others, including you. 
So thank you for being here.
You have good taste, and we like that.
 Flour & Branch delivers joyful bakes that will bring delight to every day and accompany your most treasured moments. Our treats transport you back to some of your best, most comforting memories of food, while giving you a new taste experience that stays with you.
You know that warm feeling you get when you bite into a perfect PB & J? Or the satisfaction of licking your fingers after devouring a gooey cinnamon roll? Or that kick of nostalgia that washes over you after biting into s'mores? We get it. Sweet treats like these are life's simple joys and bring out the child in all of us.
Flour & Branch strives to evoke those perfect childhood memories and combine them with grown-up sensibilities, refined techniques, and carefully selected ingredients to deliver unique and delicious experiences right to your door. 
Flour & Branch bakes are the perfect accompaniment to everything from road trips to rehearsal dinners, baby showers to backyard barbecues, sympathy visits to self-care days. Our nostalgia-inspired, foodie-influenced bakes are here to treat you and those you love through all your stages of life.
FLOUR & BRANCH