Garden Lites®, the leader in veggie rich foods, is the national front runner in nutritious breakfast muffins for children. Two flavors especially popular with kids are cartoon inspired: Ninja Power Muffins and SpongeBob Chocolate Krabby Square Muffins. Since all Garden Lites products are made with vegetables as first ingredients that are gluten-free; allergy friendly; soy free and tree & peanut free, the line of Garden Lites muffins is embraced by so many families they sell out weekly. But if you ask any kids, they'll just say they love the taste, which is a powerful reason this culinary solution to feeding children vegetables is such a hit for all ages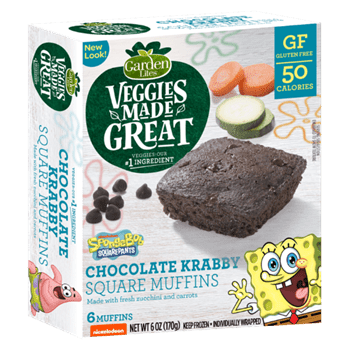 Garden Lites SpongeBob Chocolate Krabby Square
Veggies Made Great is not just a slogan for these delicious chocolate muffins. Not only do children love the fun characters on the colorful packaging, but parents are happy that zucchini and carrot are the first 2 ingredients.  Only 50 calories each, Garden Lites Chocolate Krabby Square Muffins are perfect for breakfast and lunchboxes.
Garden Lites Ninja Power Veggies
Zucchini and spinach lead the way in these "Veggies made Great" muffins. The upbeat Ninjas on the packaging beckons children to enjoy the nutritious and delicious muffins. Only 60 calories each, Garden Lites Ninja Power Muffins are perfect for breakfast and lunchboxes.
"Children are not eating enough vegetables, and it's a problem that is challenging families across the U.S.," noted Garden Lites Executive Vice President Andy Reichgut. "At Garden Lites, we are passionate about offering vegetables in all of our products, and at the same time, ensuring they are also convenient and delicious."
Garden Lites products can be found nationwide at such retailers including: Costco, Kroger, Meijer, Target, Shop Rite, Publix, Stop & Shop, Giant, HEB, Ralph's, Fry's, and Whole Foods or at www.thehealthfoodstore.com
The bright green look of "Veggies Made Great" on every package signals a shift in the visual language in which Garden Lites proudly emphasizes vegetables as the primary ingredient in all Garden Lites products. The packaging change also helps highlight the company's dedication to clean and simple, gluten free, non-GMO, nut free and kosher ingredients as well as proudly displaying the prestigious Good Housekeeping Nutritionist Approved Emblem, the first health-conscious, lifestyle-aware seal in the food and beverage industry. The back of the package also shows the ingredients in a clear veggie wheel graphic.
Garden Lites® is a Classic Cooking, LLC brand based in Avenel and Rahway, NJ that produces delicious vegetable snack foods. Since 2008, Garden Lites has raised the bar in healthy foods by delivering full flavor that's also veggie rich. Garden Lites has the Good Housekeeping Nutrition Seal of Approval and is the recipient of numerous awards, including Cooking Light – The Healthiest Frozen Foods in the Supermarket: Breakfast; Grocery Headquarters Trailblazer Award; Parents Magazine 25 Best Frozen Food for Families; – Gluten Free Digest Chocolate Muffins; Pioneers of Better for You: Refrigerated and Frozen Foods and Runner's World Editor's Pick.
OUR MISSION
Our mission is to inspire people to love eating veggies by creating the highest quality, remarkably delicious and nutritionally smart, veggie-rich foods that are ready to eat and available everywhere.
OUR STORY
At Veggies Made Great, our mission is to get America Hooked on Veggies. Why? Because only 1 in 10 Americans eat the daily recommended amount of veggies. Fad diets come and go, and health advice changes over time, but there is one health message that has never changed: Eat your vegetables.
Vegetables are the first and primary ingredient in every Veggies Made Great product.  Whether the vegetables that make up the product are hidden, like zucchini and carrots in our Double Chocolate Muffins, or the highlight of the product like kale and cauliflower in our Superfood Veggie Cakes, Veggies Made Great makes eating your veggies delicious.
A lot has changed since our inception in 2009. One of the more recent changes, is the evolution of our brand name from Garden Lites to Veggies Made Great®. We believe that "Veggies Made Great" is a much stronger articulation of who we are and what we do.
Our products meet the growing consumer demand for healthy plant-based food, having vegetables as the first and primary ingredient. All items are gluten-free, nut-free, and remarkably delicious. Our products have the added benefit of high protein,  are made with only clean and simple ingredients and are nutritionally smart (low in fat, calories, sugar and salt.) All of which makes them a great handheld snack or on-the-go meal. Find our items in the freezer section of your local grocer!
We are committed to helping you and your family find new and delicious ways to eat more veggies.