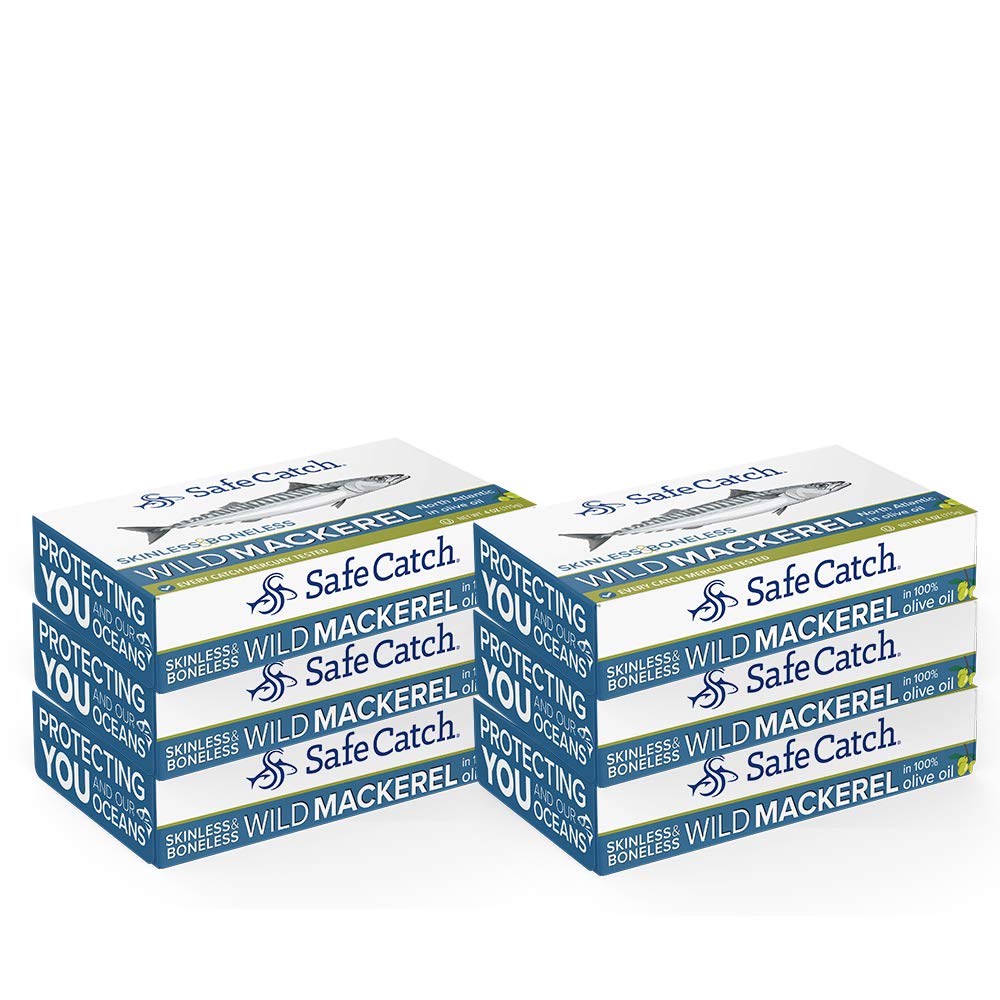 When it comes to canned fish, tuna seems to always reign supreme, but after chowing down on the pantry staple for most of 2020, you most likely are ready to mix up your sandwiches and salads. Safe Catch new canned mackerel in pure olive oil is the perfect option to refresh your favorite recipes or eaten straight out of the can. The mackerel fillets are packed full of 14g of protein and over 4000mg of Omega-3's per serving. Safe Catch tests every catch for mercury and the mackerel is non-GMO, Whole30 Approved, Paleo/Keto-friendly, Kosher, and gluten-free.
SKINLESS & BONELESS MACKEREL – Safe Catch North Atlantic Mackerel is hand-filleted and packed, then slow-cooked to perfection. Our artisanal cooking method ensures fish retain all nutrients and flavors for amazing purity and premium taste.

OVER 4000MG OMEGA-3s PER SERVING – When you open the canned mackerel, you'll find the highest quality mackerel fillets in 100% pure olive oil with naturally occurring healthy fish oils and juices.

EVERY CATCH IS MERCURY TESTED – We are the only brand to test every catch for mercury (to a limit of 0.15ppm – 6X stricter than the regulation). Our mackerel is Non-GMO, Whole30 Approved, Paleo/Keto Friendly, Kosher, and Gluten-Free.

SUSTAINABLY WILD CAUGHT – Our wild-caught mackerel in 100% pure olive oil has been sustainably caught in the cold waters of the North Atlantic, protecting our marine habitats and proudly following sustainable fishing guidelines.

OFFICIALLY ENDORSED MACKEREL OF THE AMERICAN PREGNANCY ASSOCIATION – A healthy choice for kids, pregnant women, and athletes. 14g protein per serving and full of heart-healthy Omega-3s per serving—important for developing strong minds and bodies.
Safe Catch Canned Mackerel Fish in Pure Olive Oil, Mercury Tested, Wild Caught North Atlantic Mackerel Fillets Skinless & Boneless