Blast off into outer space and journey through a cosmic adventure of galaxies galore! Take a trip to the stars and create galaxy donuts and galactic glaze, calculate your weight on other planets, identify our constellations by making a constellation geoboard, and  learn about the art of marbleization as you make galactic art paper! What's really out there in the universe, billions of miles away…come with us to explore
Our Story
We are a team of educators, mothers and designers, whose goal is to create meaningful learning experiences through the vessel of cooking! We are passionate about infusing STEAM concepts into our adventure kits, allowing children to question, invent, engineer, and create through inquiry based techniques and open ended problem solving in the kitchen.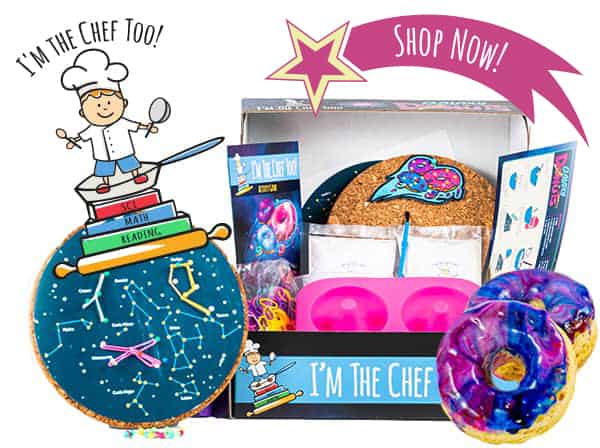 We are always brainstorming to find the hottest topics that children love to learn about and then test them with the most important people of all, KIDS! We want to deliver an experience that builds creative confidence & blends food, STEM, and the arts into delicious fun. Our adventure kits have been nationally recognized, featured in top publications such as US Weekly, and have been awarded the Parent's Choice Award, National Parenting Product Award and Family Choice Award. Come join us and have FUN on these educational delicious adventures!
What started as a simple Facebook page in 2016 of my children cooking up a storm in our kitchen, has now evolved into I'm the Chef Too! My boys who were 2 and 4 at the time have always loved to cook, and they wanted to be involved in everything I did, from mixing to chopping to sampling! I decided to break down the steps for my toddlers and put them to work. Every day I would post pictures of my children helping me cook on social media along with our recipes, in hopes that we could encourage our friends to involve their little ones in their kitchen as well. Our following eventually grew and a friend approached me one day as we were talking, and in a joking manner said, "When can I drop my kids off in your kitchen?"
That was when I'm The Chef Too! was created. If I can make cooking and baking fun for my little ones, then why not yours? As a school teacher who has taught for over 10 years, I decided to take my love of teaching out of the classroom and into the kitchen! All of the standards I was once teaching in my classroom about reading, science, math, art, STEM, STEAM, and social studies are now infused into  recipes making cooking and learning fun, engaging, and tasty!
With a dash of imagination and a pinch of creativity, I'm the Chef Too has been able to reach tens of thousands of chefs and turn ordinary kitchens into multi-sensory playgrounds! Since then, there's not a day that goes by without my kids running into the kitchen screaming, "Wait for me, I'M THE CHEF TOO!"
 Owner and Founder, Lisa Wallace