Sukrin

USA carries a range of all-natural, zero-calorie and low-carb sugar alternatives, naturally gluten-free, and fat-reduced flours, low-carb, sugar and gluten-free bake mixes and delectable, sugar-free chocolates. The Sukrin range of products is perfect for those wanting to live a healthier life and even more so for those needing a special diet without gluten, low in carbs and without sugar. All products are as natural, unprocessed and healthy for you as we can possibly make them – and  fantastic new products are introduced continually. Sukrin USA is the exclusive importer to the USA of the brand Sukrin, founded in 2007. Since the introduction, Sukrin brand has grown to become the dominant health brand within its category in all of Scandinavia and large parts of Europe and numerous awards and honors have been bestowed upon the Sukrin range of products. 
Sukrin Monk Fruit is an all-natural no-calorie sugar alternative made from erythritol and the ancient sweet fruit known as Luo Han Guo (Monk Fruit). With the aroma & sweetness of real sugar, this product is the perfect alternative for those who wish to avoid its harmful effects. It is perfect in tea and coffee, for sugar-free baking and desserts without compromising on taste, and measures just like regular sugar. Sukrin Monk Fruit contains absolutely no calories, does not affect blood sugar or insulin levels in the body and has no artificial colors, additives or preservatives. It is made with Monk Fruit and erythritol, which is made from glucose extracted from non-GMO corn starch through a natural fermentation process. Additionally, monk fruit has unbelievable health benefits for general well-being and is even great for your teeth!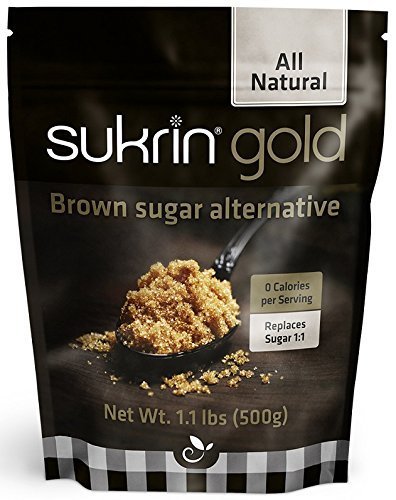 THE ORIGINAL GOLD SWEETENER – Enjoy the aroma, sweetness, flavor, and texture of brown sugar with zero calories per serving

ALL-NATURAL – Made of erythritol, stevia, malt extract, and tagatose. Non-GMO with no artificial flavors, additives, or preservatives

DIABETIC FRIENDLY – Less than 1 GI and no effect on blood sugar. Gold is well-suited for low carb and Keto diets

MEASURES JUST LIKE SUGAR – Substitute regular or brown sugar 1:1. Perfect in tea, coffee, and sauces

GUILT-FREE COOKING AND BAKING – Retains delicious flavor at high temps and even caramelizes like brown sugar without the "cooling" after-taste
LOVING OUR CUSTOMERS FROM THE INSIDE OUT
We are passionate about helping our customers live a healthier lifestyle, by providing products and ingredients that allow easy, simple changes to be made to your lifestyle. Whether you follow a special diet that needs to be low in carbohydrates or sugars, be gluten-free, or high in fiber – or you just want to add more healthy foods to your diet – the Sukrin range is perfect for you. All of our products are as natural, unprocessed and good for you as we can possibly make them!