Epic Air Fryer Plant-Powered Cookbook
100 Incredibly Good Vegetarian Recipes That Take Plant-Based Air Frying in Amazing New Directions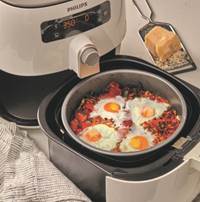 Move over, fried chicken. In Epic Air Fryer Plant-Powered Cookbook, air-frying expert Michelle Anderson shows you how to make 100+ amazing vegetarian dinners, sides, snacks, desserts, and more.

The air fryer is not just for carnivores. Whether you are a full-time vegetarian or one of the millions of omnivores who are adding more plant-based dishes and meals to your weekly routine, you will love the imaginative, healthy, and terrifically tasty ideas in this book. Air fryers cook fast and easy—that's why everyone loves them! — and, because they use less oil, the food they deliver is crispy, crunchy, and delicious but much better for you than traditional deep-fried or pan-fried foods. 

Start your day with Crispy Buttermilk Waffles or zesty Huevos Ranchero Wraps and end it, after dinner, with an amazing air-fried dessert, such as Caramelized Pineapple Shortbread, Churros with Chocolate Sauce, or Lemon-Blueberry Donuts. In between, you will find lots of substantial meatless main courses, like Sesame-Orange Tofu and Broccoli, Turkish Cauliflower Fritters, and Zucchini-Feta Pancakes with Tzatziki Sauce.


Are you a potato lover? Try the recipes for Sensational Sweet Potato Fries or Potato Wedges with Cheddar Dip. From snacks like Smoky Candied Pecans to appetizers like Roasted Garlic Guacamole and sides like Low Country Hush Puppies, the ideas are boundless and incredibly delicious.
The author