Yellow Scope
has created their science kits to get kids interested in discovering the world around them through fun and interesting experiments that turn them into little scientists. From the Foundation Chemistry kit which can teach kids about the chemical reactions that happen in baking to the Acids, bases and pH kit that lets kids discover the different tastes of liquids used in everyday meals. The kits come with everything they need, including safety goggles, to perform a wide variety of experiments and get interested in an activity in the kitchen, instead of at a screen.
Did you know that red cabbage is a natural acid-base indicator? This fun chemistry kit comes with test tubes of concentrated red cabbage powder and all the supplies for dozens and dozens of color-changing experiments! Use cabbage chemistry to:
Make your own pH paper
Discover the pH of everyday liquids
Neutralize acids and bases
The detailed lab notebook outlines 19+  exciting chemistry experiments, with plenty of ideas for girls to design their own experiments.
The Acids, Bases & pH Kit won a Parents' Choice Gold Award and was Finalist for the 2017 Toy of the Year!
Designed for girls 8-12.
What's in the box?
28-page lab notebook
safety goggles
2 test tubes
concentrated red cabbage powder indicator
7 small measuring cups
6-well palette
dropper pipette
5 filter papers
5 toothpicks
THINK LIKE A GIRL pencil
collectible pH science pin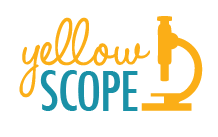 OUR STORY
Yellow Scope was founded by scientists and moms, Marcie Colledge, PhD and Kelly McCollum, MPH. They met volunteering at their daughters' school, running family STEM programs. Yellow Scope grew out of their shared passion for science, education, and closing the gender gap in science! Each kit is lovingly assembled by hand in Portland, Oregon.
OUR TEAM
CO-FOUNDER: MARCIE COLLEDGE, PhD
Marcie has a PhD in neuroscience from the University of North Carolina at Chapel Hill. She has over 15 years of experience in academic science running her own research lab, publishing her work in peer-reviewed journals, and presenting her research at conferences. She also has over 10 years of teaching experience – from leading courses for undergraduate and medical students, to training students in the lab. She enjoys yoga, walking, and camping with her husband and two daughters. Marcie loves color, design, and all sorts of fonts.
CO-FOUNDER: KELLY McCOLLUM, MPH
Kelly has an MPH in Epidemiology and Biostatistics from Johns Hopkins Bloomberg School of Public Health and a BS in Biology. She has over 10 years of experience conducting data analyses for publication in peer-reviewed science and medical journals and overseeing the operations of large-scale biomedical research studies. She also has a decade of formal and informal teaching experience including teaching middle school science, graduate level biostatistics, and tutoring in math. Kelly enjoys camping, gardening, listening to live music, and taking adventuresome trips with her husband and three children. She also loves puzzles and has never met a spreadsheet she didn't like.
CHIEF WHATNOT OFFICER: JENNIFER FINUCANE, BA
Jennifer graduated from the University of Delaware with a degree in International Relations. She has over 11 years of professional experience fundraising for civil liberties and health care non-profits. Jennifer enjoys playing soccer, being outside, exploring new cities and attending Portland's professional women's soccer team, the Thorns, games with her husband and three children. She is also certain she must love carpooling children to sports practices, otherwise why would she spend so much time doing it?
SOCIAL MEDIA & BLOGGING: CHELSEA SCHUYLER, BA
Chelsea is a content writer who combines computer nerdery with science enthusiasm to create interesting stuff to read. She is a firm believer in ditching the textbooks and getting kids (and adults) learning with their hands and their laughter. She has a biology degree from Lewis & Clark College, taught 5th and 7th graders in a New Orleans science camp, has volunteered in numerous conservation projects (mostly in Africa), and dreams of seeing every David Attenborough documentary ever made. Learn biology without realizing it from her blog The Chelsea Scrolls.
SCIENCE EDUCATION CONSULTANT: MEGHNA PANT, PhD
Meghna has a PhD in Biochemistry from The Ohio State University. She has eight years of research experience and has published her work in peer-reviewed journals. Meghna recently completed a science education internship at Oregon Museum of Science and Industry (OMSI), designing exciting hands-on science experiments for kids. She has a passion for science communication and writes a biology blog to channel that energy. Meghna loves mountains and enjoys being outside, exploring new trails with her husband. She also likes to rhyme words, even the "sciency" ones.