IS THIS REALLY GLUTEN FREE? ABSOLUTELY.
At Absolutely Gluten Free, we're committed to providing delicious items that just happen to be gluten free.  Absolutely Gluten Free Crackers, Flatbreads and Pizzas are so good everyone will want to eat them!
No matter the reason you choose to eat gluten-free, Absolutely! Gluten Free line of real, wholesome snacks and treats are the perfect choice for any occasion. Stock up for school or work snacks, family dinners or small celebrations, or to make your mom something extra special for Mother's Day, Absolutely! Gluten Free is so good that everybody will want to eat them! The delicious product line includes: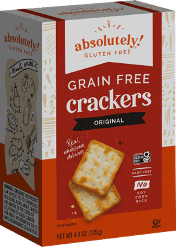 Absolutely! Gluten Free's popular crackers and flatbreads are crisp, crunchy, and delicious, with a wide range of flavors including Original Variety, Toasted Onion, Everything, and Cracked Pepper.  The crackers and flatbreads are perfect for that amazing cheese and charcuterie board, for dipping, topping, to accompany with soups or salads, or straight out of the box.

New 

Absolutely! Gluten Free

's Coconut Chews 

answer your calling for

 something sweet and decadent.  The chocolate drizzled Coconut Chews are moist, soft coconutty sweets that now come in two new flavors – Key lime and Blueberry.
The wildly popular Absolutely! Gluten Free Macaroons are available in Chocolate, Coconut, and Cranberry. These mouthwatering chewy bites of goodness are sure to satisfy everyone's sweet tooth.
"Absolutely! Gluten-Free, is the must have product line not only for people who are seeking to eliminate gluten from their diets, but for people who are looking to discover delicious snacks and treats that are also healthy and free of allergens." Says Laura Morris, Associate Marketing Director for the brand. "gluten-free can also mean delicious."
All Absolutely! Gluten Free products are all-natural, certified gluten-free, and OU certified kosher. AGF is a division of Kayco Foods based in Bayonne, NJ.  To learn more about Absolutely! Gluten Free visit the website https://www.absolutelygf.com