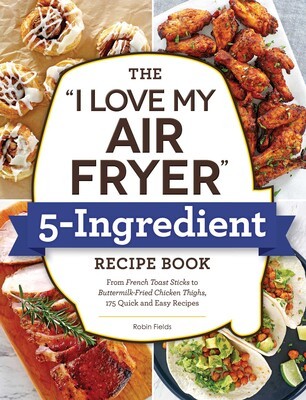 Create deliciously quick and easy recipes in your Air Fryer using only 5 ingredients or less!
Want simple meals that your entire family (even the pickiest eaters) will devour? Looking to avoid the grocery store and use some of the ingredients you already have on hand? The "I Love My Air Fryer" 5-Ingredient Recipe Book is here to help!
This easy-to-use cookbook provides mouthwatering, whole-food dishes for every meal—from breakfast and dinner to appetizers and dessert—using favorite, familiar ingredients you probably already have in your pantry.
Including 175 delicious recipes using five—or fewer—ingredients, these fast, affordable meals don't require a lot of prep or shopping, so you can spend more time out of the kitchen doing the things you love. Best of all, these satisfying, flavorful recipes are sure to be a big hit with everyone in the family. Whether you need an easy dinner on a busy weeknight or want to cut back on time (and money) in the grocery store, this cookbook has you covered!