Pink and Gold Half Heart Lollipops

Rosé filled lollipops are a thing!

Sweet Caroline Confections

 handcrafts hard candy lollipops with amazing sparkle. Everyone from Marc Jacobs to Gucci and Chanel has enjoyed the uniquely custom designs.

You don't have to be a celeb to create any lollipop your heart desires. The oh-so-fun brand takes your order and makes them just for you. Or choose from a long list of 

best-sellers

. They make all types of lollipops, from the colors to the shape, size, and flavor.
"Just when you thought it wasn't possible for a confection to be beautiful, delicious, AND a conversation piece all in one.. along comes Caroline Confections Sparkle Lollipops! They're literally fancy, sparkly, tasty bling for any occasion that will be the highlight of any event or gift!"
Weddings, Holidays, Anniversaries, Baby Showers

Sweet Caroline Confections Make Life Better With Hard Candy Lollipops!

A self-taught candy artist, Andrea Caroline creates delectable confections with a magic touch of sparkle. She sources the finest ingredients for her hard candy lollipops that are the talk of the town and beloved by everyday consumers and 

celebs

 alike. Every client is notable for Andrea!

For corporate events (logo lollipops are the new business card!), 

weddings

, and holiday gift-giving, the brand's alcohol-filled lollies are great as party favors and a unique way to say thank you to guests. Any lollipop can be customized with corporate 

logos

, names, and numbers. The popular 

Rosé Wine Lollipops

 are the star of the show.

Get your sparkle on with the flavors below and have fun creating your versions with Andrea and her team! Non-alcoholic versions are also available.

A Sweet Caroline Confections exclusive
Made with real delicious Rosé wine with hints of watermelon, strawberry, and raspberry
The rose gold color sparkles throughout with gold-edible glitter and rose gold foil
Available in one size (medium)
Matching ribbon included, individually wrapped
Price: $35 (set of 10)

A Sweet Caroline Confections exclusive
Bright aqua blue candy with the signature glitter rainbow
Available in medium and large and large heart sizes
Matching ribbon included, Individually wrapped
Choose from 10 flavors, including non-alcoholic
Price: $19.50 (set of 6)

A Sweet Caroline Confections Exclusive
Pearlized mint green candy lollipops with light pink sugar pearls, gold sparkle flakes, and gold edible glitter.
Available in three sizes – medium round, large round, large heart
Matching ribbon included, individually wrapped
Price: $19.50 (set of 6)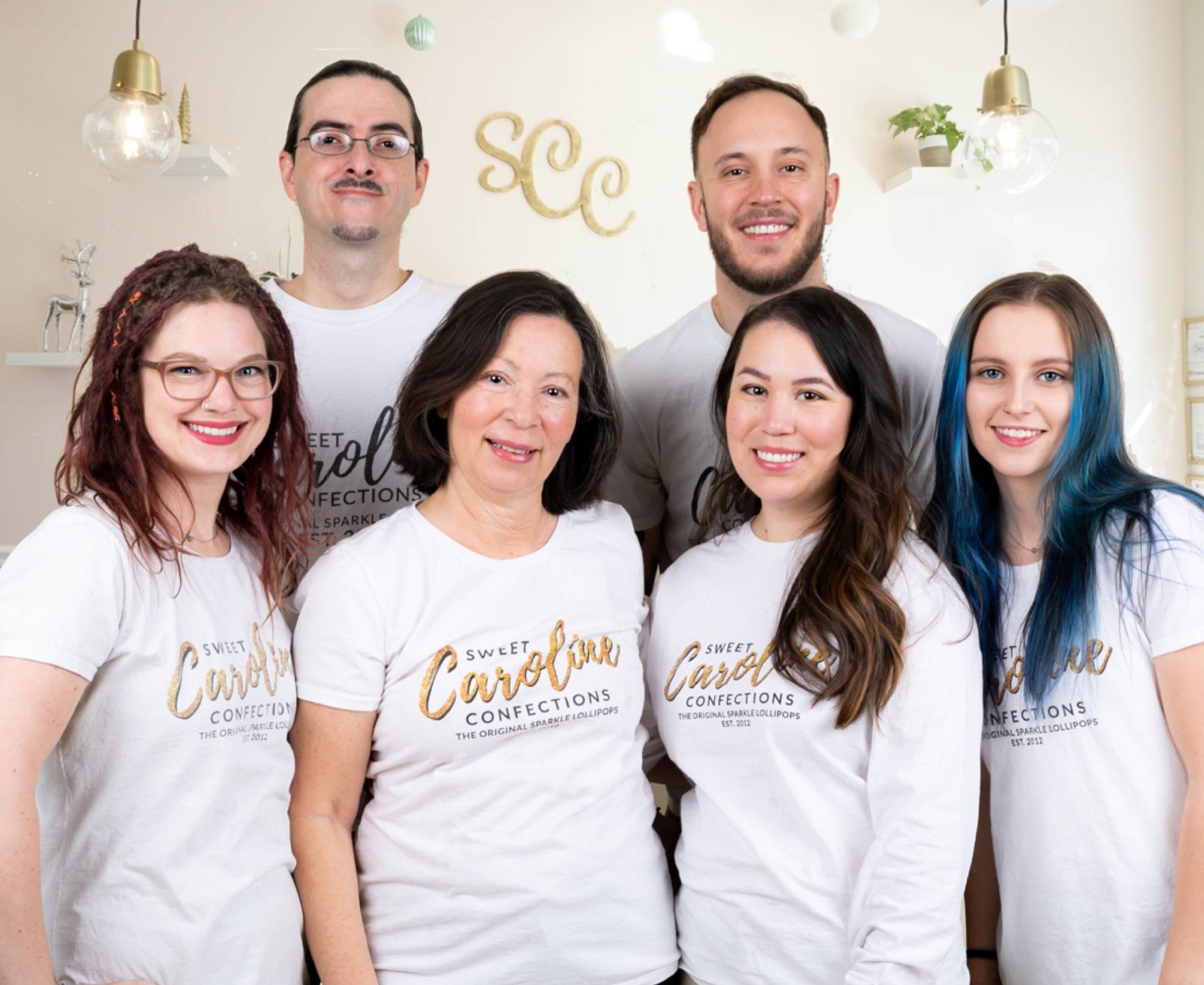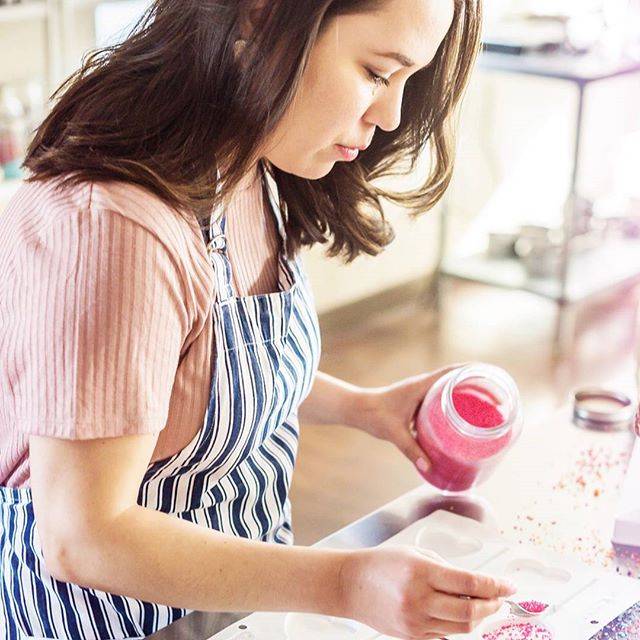 WE ARE SWEET CAROLINE CONFECTIONS: 
THE ORIGINAL SPARKLE LOLLIPOPS!
My name is Andrea Caroline, and I am a self-taught candy artist, business owner and the creator of Sparkle Lollipops.​
Sweet Caroline Confections was certainly a sweet accident.
I had been making semi precious jewelry for about 2 years and loved participating in craft shows and art fairs in South Florida. Fast forward to Halloween 2012: the largest handmade craft fair in Ft. Lauderdale was right around the corner and I wanted to create something both sweet and eye-catching for our jewelry customers to enjoy. I decided to make hard candy lollipops. I had no molds, and really didn't make anything remotely similar to what you see in our shop today. But despite that, our customers went crazy for our candy (jewelry, what jewelry?!). I immediately saw the potential my hard candy lollipops had and decided to leave jewelry making behind.​
Over 8 years later, and our business is constantly growing and expanding throughout the world. We ship thousands of lollipops every week and work with exciting customers such as bridal gown designer Hayley Paige, Lebron James, Martha Stewart Weddings' very own Darcy Miller, Chanel, Hermes, Marc Jacobs, Cynthia Rowley, Makeup Forever, GUESS, Miu Miu, only to mention a few.
SCC is also now carried by over 800 stores across the USA and Canada!
Search our stockist directory for a store near you ♥️
We are an amazing full time team of (currently as of April 2021!)
9 team members including myself.
​We operate out of our very own 3k sq ft production space and storefront in Englewood, CO, a short 10 min drive from downtown Denver!
This has been a longtime dream and it has finally become a reality.
We strive on continuing our expansion throughout the USA, Canada and Europe.​ We truly have a passion for what we do. Let us create something amazingly unique for your next event.​
Sweetest Regards,
Andrea Caroline
CEO Sweet Caroline Confections
Sparkle Lollipop Creator, est. 2012