Our new limited edition holiday season drop is here!
Barebells has just announced the launch of their new holiday themed protein bar, Holiday Crisp, which will be available starting November at barebells.com, GNC, Trader Joes and select gyms across the country. Holiday Crisp is limited for the Holiday Season only.
Barebells' new Holiday Crisp flavor combines a smoother texture than most other protein bar options. Consisting of a creamy sweet chocolate body on the outside, gooey salty caramel, and soft puffy crisps throughout the snack, giving it a light and crispy consistency that pairs perfectly with the flavor. No holiday will be complete without getting a taste of the new Holiday Crisp protein bar from Barebells.
HAPPY HOLIDAYS!! ~ Santa arrived early for all of us who simply can't live without the BEST protein bars on the planet!
Barebells has raised the bar when it comes to holiday flavors combined with all the incredible health benefits of a delicious protein bar! Good-by fat-filled lattes, hello Holiday Crisp!!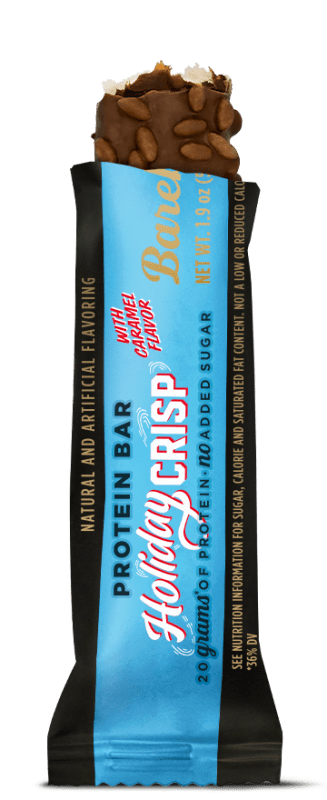 YOUR NEW ADDICTION
100 % Barebellicious – available in seven incredible flavors. Barebells protein bars were born to wow your taste buds! All with no added sugar, 20 grams of protein, without palm oil and never compromising on flavor. You're welcome!
 Barebells – the best-selling, high-in-protein, no added sugar* protein bar brand. As most protein bars are effective they are often lacking in flavor or leave a chalky aftertaste. Barebells is here to change that with their delectable, flavorful, and mouthwatering bars that stand out from the competition as some of the best-tasting protein bars in the industry. 
Barebells protein bars are rich in protein with 20 grams of protein, no added sugar, without palm oil, and only 200 calories. They suit everyone who wants to give their taste buds a real treat. Barebells launched in 2016 and offers a tasty range of snacks and alternatives to breakfast and desserts – without compromising on flavor. Barebells come in nine irresistible flavors: Chocolate Dough, Crunchy Fudge, Hazelnut & Nougat, Cookies & Cream, Caramel Cashew, White Chocolate Almond, and Salty Peanut, and two new plant-based bars: Salty Peanut and Hazelnut Nougat. All equally Barebellicious. 
We believe in happy eating and healthy living. That's why we offer a whole range of protein bars – all equally Barebellicious. What are you craving today?
The brand was launched in Sweden 2016 and offers a range of protein bars that never compromises with flavor.