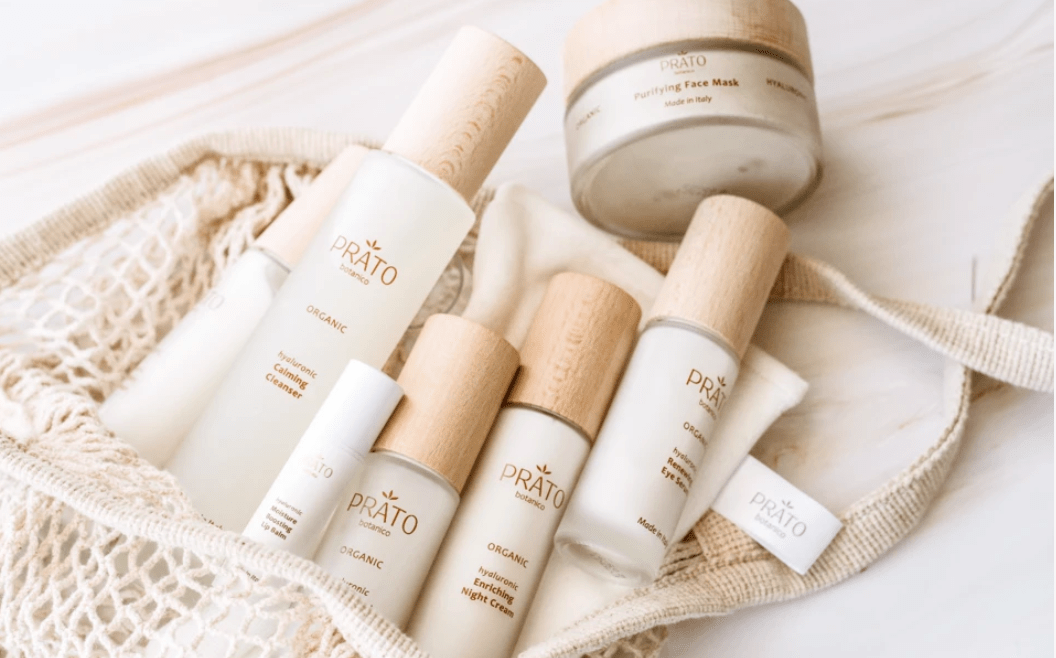 Prato Botanico 
The luxe Italian skincare brand comes to the U.S. to greet clean beauty lovers with all-natural organic products. Key botanical ingredients are harvested in southern Italy and exemplify the natural goodness of the region. With an artisanal approach, the brand lovingly crafts luxurious, high-performance skincare using the purest botanical extracts blended with both care and intention to deliver beautiful-looking skin. All products are cruelty-free, vegan-friendly, and NATRUE certified, the highest and most stringent organic certification a skincare brand can receive from this organization. It's only awarded to a brand that is entirely committed tco producing natural and organic cosmetics. Prato Botanico products are free of parabens, synthetic fragrances, mineral oils, phthalates, and sulfates.
"The best time of the year, has collided with the best self-care products of a lifetime!
Luxury meets luscious with each and every sensory experience of Prato Botanico! I can't think of a better gift than the gift of luxury. And what better way to get through the hustle of the holidays than with AMAZING Prato organic skincare!"
LUXURIOUS, SUSTAINABLE BEAUTY
Prato Botanico offers clean, natural and skin-friendly formulations. Just as our Earth has the power to renew itself year after year given proper care, our skin is also capable of remarkable self-renewal when given the same care. Crafted with exceptional purity, our gentle, effective formulations combine nourishing and moisturizing ingredients from the fertile landscapes of southern Italy. Rich in aloe vera and other beneficial botanicals, our luxurious collection delivers a natural, glowing finish.
Locally Grown, Organic Ingredients
All of our formulations center around sustainably harvested organic ingredients from southern Italy.
When we do use non-local ingredients, they are always natural and ethically sourced from responsible and trusted producers. We hold ourselves to the highest standards when choosing ingredients and formulations, ensuring that they support our health and show a deep reverence to the Earth.
No parabens, no synthetic fragrances, no mineral oils, no phthalates, no sulphates.
Committed to Sustainability
From sourcing to formulation, production to packaging, we make no compromises when it comes to sustainability.
The essence of Italian beauty, luxury and nature
Our luxurious products were born in the gently rolling meadows and endless coastlines of southern Italy. They are clean, certified-organic skincare at its finest.
We put people and the environment first, lovingly crafting our products in a sustainable, responsible and transparent fashion. Combining old-world tradition with cutting-edge technology, we draw from the highest quality locally-grown, certified-organic ingredients. These materials are extracted with expert precision to preserve the purity and quality of each active ingredient.
The resulting innovative formulations are ultra-effective products that work to nourish and pamper the skin with Italy's best botanicals.
Certified Organic
NATRUE, a European-based International Association of Natural and Organic Cosmetic experts, upholds "the highest possible standards for natural cosmetics and their ingredients." 
Of the three certification tiers that NATRUE offers, Prato Botanico proudly holds the most selective and stringent category of "Organic Cosmetics".
This certification, granted after an exhaustive review of our formulations, ingredients, sourcing methods, packaging and manufacturing practices, is one of the many ways in which Prato Botanico sets itself apart from other beauty companies.
Among other attributes, NATRUE's seal of approval offers an independent guarantee that our products are free from toxins, parabens and GMO ingredients, are ethically and sustainably made, and are cruelty free.
Learn more at natrue.org