HAPPY NATIONAL SOUP MONTH!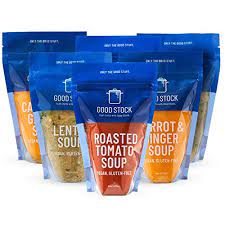 Gone are the days of soups found in cans, loaded with artificial flavors, sodium, and artificial meats and vegetables. With Good Stock soups, they  have finely curated, all-natural vegetables accompanied by carefully select, all-natural meats.
"Nothing warms the soul during the winter months quite like soup~ and when I say "soup", I mean Good Stock Soup, or what I like to call – comfort in a cup!
Good and good for you, Good Stock brings us rich, delectable flavors, with all the wholesome ingredients we can feel good about giving our family! I'm a Good Stock soup fan for life!"
OUR MISSION
We believe that soup cooked the right way makes you feel good like no other food. It's a spontaneous combination of everything we love about cooking: It's communal, it's healthy, it's heartwarming, it's a little bit messy, and it fills you up but doesn't weigh you down. That's why we're on a mission to spread good feelings through good soup.
THE GOOD STOCK DIFFERENCE
We're a modern soup company that does things the old fashioned way. We select high quality vegetables, herbs, and meat from high quality farms. We cook those ingredients with skill, precision, and heart. Cooking the right way means we never use artificial ingredients or artificial preservatives. Only the good stuff goes into our soups, and only the good stuff goes to our customers.
Good Stock launched in the fall of 2014 at Smorgasburg, New York City's premier outdoor food festival. Word quickly spread about the new soup in town, so we launched a home delivery business to satisfy our friends, and our friends' friends. We then created our catering business, before we launched our first retail experience, a weekly pop-up at West Elm Dumbo in the fall of 2015. Our first permanent soup shop came one year later when we opened at Urbanspace Vanderbilt in Midtown. We opened our second store just two months later on Carmine Street in the West Village. We then realized all of America deserves and needs better soup, so we launched Stock Up in 2019 to ship our soup across the country.
Born and raised in Houma, Louisiana, Ben LeBlanc grew up surrounded by a rich culture of food and entertaining. From crawfish boils to game-day gumbos to sazeracs at sunset, eating well and laissez les bon temps rouler is part of the fabric of life in south Louisiana.
His professional career began in finance, taking him to New York, London, then back to New York. His love for eating and all things food deepened at every step. After years of exploring cuisines around the world (read: eating far too much!), working on techniques with the help of friends far more talented than he, and missing the gumbo he grew up with, Ben followed his passion and created Good Stock.