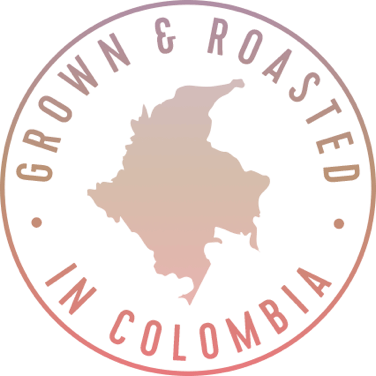 Coffee lovers know, there is nothing like a fresh cup in the morning. But what if you were able to get your coffee right from the source? Amor Perfecto is the ONLY coffee in the world that is harvested, roasted, and shipped straight from Colombia, giving it a one-of-a kind flavor. What started as an underground coffee business inside a flower shop in Bogota more than 20 years ago, is now a first-of-its kind operation.
Think of it as a farm-to-table concept, but for your morning cup of coffee. By growing, roasting, and shipping straight from the source, the coffee beans are fresher than most, and more environmentally friendly.
The Amor Perfecto Way.
Amor Perfecto was born 25 years ago in a flower shop in Bogota, Colombia with one goal: to revolutionize coffee in a producing country. In 1997, serving quality coffee in Colombia was not just radical, but illegal. We changed that. Now we want to change the entire game. We call it the decolonization of our industry; join the movement and drink coffee #RoastedAtOrigin.
Seed.
Unlike other coffee roasters, our work starts long before a single coffee cherry has been picked. Over the last 10 years we've been developing …
Harvest.
Harvesting coffee in Colombia is more than just farming, it's ritual. Something unique – mechanical harvesting practices are both illegal and impractical, meaning each perfectly ripe coffee cherry is picked by hand. And somewhere in Colombia is always in harvest, 365 days per year.
Process.
Make or break. Immediately after harvest, the careful work of cleaning, sorting, fermenting, washing, and drying takes place. Studies show that about 60% of a coffee's quality, flavors, and aromas come from the processing phase at the farm level, so nailing this part is critical for truly special, wonderful coffee.
Select.
Now that the coffee has left the farm, the beans are sorted based on shape and size. A single fouled bean in 10,000 can ruin an entire batch, so a keen selection process is key to setting up a successful roast.
Roast.
Roasting at Amor Perfecto is done strictly using state-of-the-art Loring Smart Roasters. We design and refine our roasting curves for each specific coffee, with the singular goal of bringing out the best of what already exists in our exceptional and fresh green beans.
Seal.
At Amor Perfecto, we do things differently – and how we package and seal our coffees is no different. We have the distinct advantage of both roasting at packing at nearly 9,000ft in elevation, meaning our coffees are exposed to roughly 25% less oxygen. This means even more wonderful flavors and longer lasting freshness.