Delicious home recipes that give back.
A collection of authentic, homecrafted pasta sauces with delicious depth of flavor inspired by favorite recipes from kitchens across America to help support people in need*.
*Twenty-five cents from every jar sold is donated to local homeless shelters throughout the U.S.
Passion with a purpose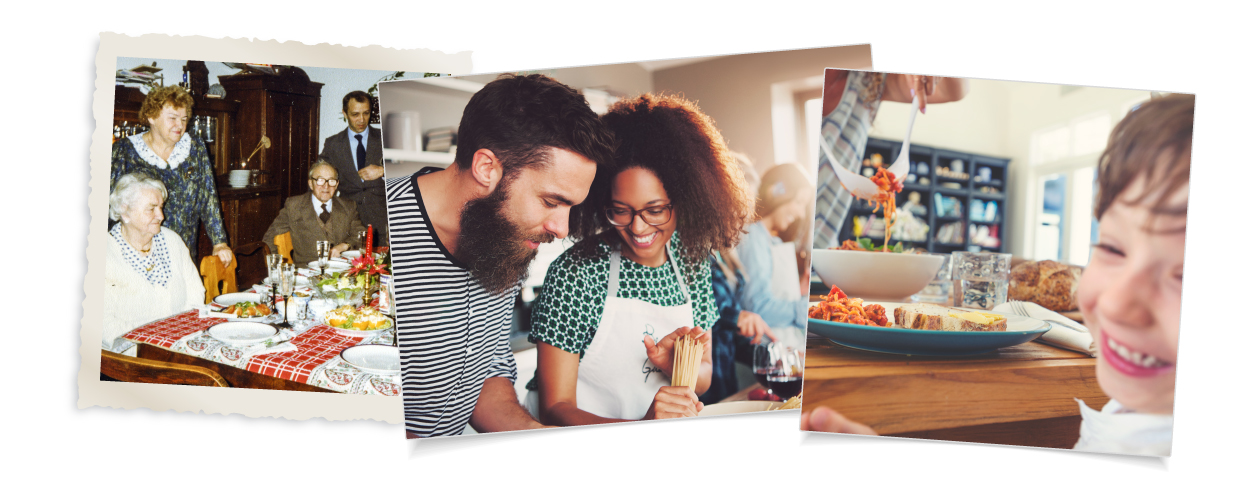 Just Like Home Kitchen Recipes® was created by Wayne Luciano, a passionate foodie who grew up in an Italian-American family in the Boston area, and Nathan Sheets, founder of Nature Nate's Honey Company, with a true servant's heart and dedicated purpose.
We wanted to provide an opportunity for people to share their special recipes in a way that helps others. This "sharing and caring" idea allows consumers to conveniently enjoy authentic recipes without the need to make them from scratch, while also helping people in need. Twenty-five cents from every jar sold is donated to local homeless shelters throughout the U.S.
All of the original recipes for our line of homecrafted pasta sauces are from real pasta sauce lovers across America, who were selected from dozens of entries as part of a nationwide recipe contest. The name, likeness and signature of the original recipe creators are proudly displayed on the front of our packaging.
Our purpose is to create connections through the joy and love of food. At Just Like Home Kitchen Recipes, we believe in the power of food to bring us together and feed the soul. We are on a mission to enrich lives through an extraordinary collection of homecrafted products with the taste of home.
We serve our purpose by living our core values every day. These seven values define our culture and help us stay true to who we are.
INSPIRE GOODNESS – We act with integrity and sincerity worthy of trust with a focus on excellence in everything we do. We care for more than just sales, and are considerate, generous, and kind with a sole purpose to enrich, inspire and serve others.
SHARE JOY – We have a passion for instilling happiness among each other, our consumers, customers, and communities. Home is where the heart is, and we are committed to bringing the joy and warmth of home in everything we do with hope and purpose in our work and life.
EMBODY RESPECT – We believe everyone has value and worth, and prioritize this value in every interaction both internally and externally. We strive to underscore humility in our relationships, and have a true appreciation for different points of view and diverse thinking.
BE RELATABLE – We are approachable and inclusive with a collaborative spirit and desire to make a difference. We are understanding and easy to understand.
LEAD FAITHFULLY – We exhibit discipline, dependability, and are wholeheartedly dedicated to achieving our goals and being accountable for our actions.
EMBRACE CREATIVITY – We are inspired by a culture of innovative thinking to deliver unique solutions that make a positive impact. We explore unknown and unsolved challenges seeking our imagination.
TAKE BOLD ACTION – We believe what we do matters, and we are steadfastly committed to our purpose with grit and determination that is unyielding. We believe our actions speak louder than our words, and we are unafraid to be problem-solvers in the face of adversity.
Inspired by home recipes from across America