SALVE
Vaginal Wellness at Your Fingertips 
Our all-natural Salve is a soothing and cooling balm that melts into skin to instantly address vulvovaginal dryness, itching, and irritation.
A Coconut and Jojoba Oil base helps protect your skin's natural moisture barrier to protect you from everyday stressors and general irritation from sex, clothing, or exercise. Natural anti-inflammatories Goldenseal, Echinacea, and Calendula help comfort symptoms associated with yeast and bacterial infections.
When used regularly, this naturally vitamin and antioxidant rich topical safely works with your body to help balance pH and naturally supports your body's natural ability to heal itself without disrupting hormones, pheromones, or medication. 
Natural Yeast Infection Treatment
In many traditional cultures, before harsh chemicals and 24-hour prescription creams became commonplace, anyone trying to support vaginal and pelvic health considered goldenseal and Oregon grape to be powerful, safe, and gentle ways to help address candida infections. Today, we select organic botanicals rich in berberine for our products. As a key alkaloid in goldenseal and Oregon grape, berberine works to quickly treat yeast infections and bacterial vaginosis.
Recommended Ritual  
With clean hands, apply a pea size amount around the vulva or affected area as needed. Safe to be used daily, and regularly. Avoid contact with broken skin and mucous membranes. Learn how Salve soothes your skin.
All Natural Ingredients | 30 ml | 1 oz
Certified organic and cruelty-free formula made without alcohol, parabens, phthalates, silicon, sulfates, or synthetic fragrance.
Organic Coconut Oil (Cocos nucifera)
Organic Kokum Butter (Garcinia indica)
Organic Beeswax (Cera Alba)
Organic Jojoba Oil (Simmondsia chinensis)
Organic Tea Tree Oil (Melaleuca alternifolia)
Organic Jojoba Oil (Simmondsia chinensis)
Organic Goldenseal Leaf (Hydrastis canadensis)
Organic Echinacea (Echinacea purpurea)
Organic Calendula (Calendula officinalis)
Organic Oregon Grape (Berberis aquifolium)
This information is for educational purposes only and has not been evaluated by the Food and Drug Administration. Momotaro products and this information are not intended to diagnose, treat, cure, or prevent any disease.
ABOUT US
The vagina is complex; we keep it simple.
Momotaro Apotheca is a certified organic and cruelty-free vulvovaginal care line that supports your body's natural ability to heal. Our proactive plant-based products work gently yet effectively to systemically address symptoms associated with common vulvovaginal issues stemming from infection and general irritation without interfering with pH balance, hormones, pheromones, or medication.
Propelled by purpose and a shared compassion for supporting people with vulvas, Momotaro Apotheca aims to address the physiological and psychological challenges affecting people from puberty to menopause and beyond.
Through education, connection, and a science-backed approach, we hope to be part of the broader conversations surrounding our sexual and reproductive health to forge a practical, proactive path toward holistic health.
This natural, holistic approach looks to address the source of the problem, rather than temporarily relieving symptoms like itching, irritation, and scents stemming from infections, pH imbalance, or general discomfort from sex, clothing, or exercise.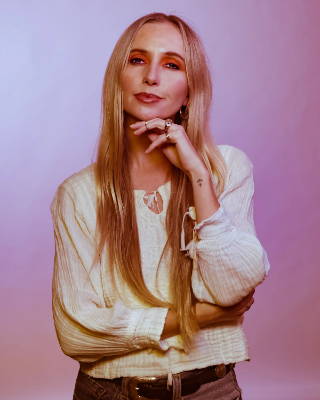 Unable to find a safe, effective over-the-counter product that wasn't full of harsh chemicals or offensive language that often did more harm than healing, co-founders Lindsay Wynn and Taylor Samuelsen set out to create simple solutions for vulvovaginal self care. The consequence of that curiosity is an accessible and discrete suite of products gentle enough to be used on every body, every day. Learn more about Momotaro Apotheca's story 
here.
The word "momo" is peach in Japanese and "taro" is a root crop from the Pacific Islands, however, these words have their own personal colloquial connotation. While Momotaro is also the name of an important character from Japanese folklore, that story has no connection to our brand.