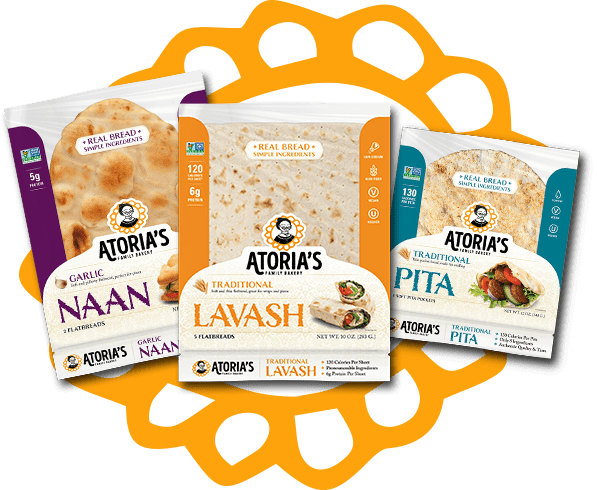 Atoria's Family Bakery offerings are perfect for wraps, pinwheels, flatbread pizza, panini, dips, chips and more. Non-GMO and Vegan, with two low-carb and keto-friendly options, the tasty varieties include NEW Cauliflower & Coconut and Traditional Pizza Crusts, Roasted Red Pepper Mini Lavash, Coconut & Cauliflower Mini Lavash, Flatbread, Whole Grain & Flax Mini Lavash Flatbread, Traditional Flatbread, Garlic Naan Flatbread, Pita with Whole Grain Flatbread, Traditional Pita Flatbread and more.
As a child growing up in the Assyrian villages near Mesopotamia, Atoria used to watch her mother and grandmother bake flatbread using their family recipe and a rustic hearth oven. Unable to find similar bread in America, Atoria started making her own and it wasn't long before a dream took shape: to bake and share her family recipe for the authentic bread of her youth with people in her new home country. And Atoria's Family Bakery was born.
Atoria and her children worked hard to make this dream a reality, and thirty years later, it's the next generation—Atoria's grandchildren—who are working to bring her recipes to a broader audience. This is still the bread of Atoria's home and her youth, the bread of family and of celebrations and of happy memories.
Thanks to Atoria, bread means everything. It's our passion. It's our joy. And it's our family tradition.