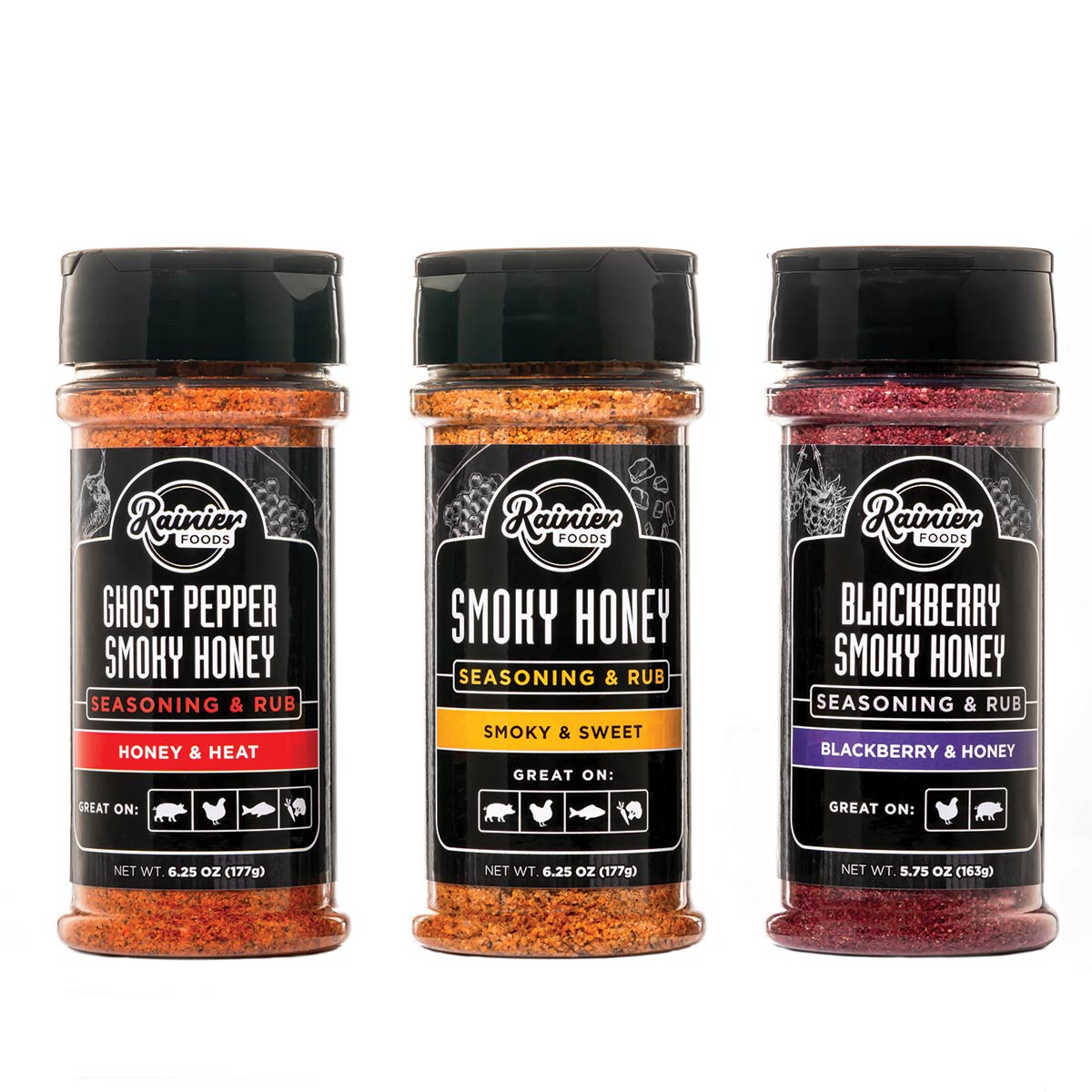 We are a family company located in the shadow of Mt. Rainier dedicated to providing you with premium quality food products. Our ability to source the best ingredients available and help you create delicious meals is only part of what sets us apart from other companies. All of our products are made locally by us so you can be sure you are getting the best quality products the Pacific Northwest has to offer. A portion of all sales donated to the Washington National Park Fund.
Blackberry Smoky Honey Seasoning & Rub
This one of a kind seasoning is packed with pure dried Blackberry, real Honey and other premium spices. Use on all cuts of Pork and Poultry.
Gochu (Go-Choo) Seasoning & Rub
When we decided to create this seasoning we knew we wanted a mild and flavorful chili pepper. We found what we were looking for in these chilis. Gochugaru Chilis are naturally mild with a sweet, fruity and smoky flavor. These Korean Chili Peppers are packed with complex flavor that cannot be found in any other Chili Pepper variety. When combined with Sea Salt, Pepper and other spices it creates an unmatched flavor profile that you can use on everything you cook.
Smoky Honey Seasoning & Rub
There are quite a few Honey Rubs on the market and they all happen to be missing one thing… Actual Wet Honey. We get it, real Honey is expensive and challenging to incorporate into a dry seasoning, but adds a flavor that cannot be matched using only a processed Honey Powder. We use Pacific Northwest Clover Blossom Honey, Cherrywood Smoked Sea Salt and Smoked Paprika to create a Honey Rub for the more discerning BBQ enthusiast. This Rub will create a sweet, sticky flavor on all of your meals.
The Essentials Seasoning
Salt, Garlic and Pepper are the essential ingredients of most seasonings, but all you need to create great tasting meals are these 3 ingredients and nothing else. Using 3 different types of Sea Salt combined with the best Garlic and Black Pepper available we worked to perfect the Salt, Pepper, Garlic ratio. Once you try this, it will be the only SPG you will ever want to use.