Meet our minimalist manifesto. This little set lets you cook everything you need — with the fewest possible pieces. A custom mix of nonstick and stainless steel items, it's the most adaptable, high-performance, beautiful cookware set we could dream up.
The set includes:
• Small Universal Lid, 6.25-7-8in
• Large Universal Lid, 9.5-10.25-11in
• Ultra-Durable Nonstick Saucepan, 2qt
• Stainless Steel Small Stockpot, 5qt
• Ultra-Durable Nonstick Chef's Pan, 10.25in
• Ultra-Durable Nonstick Large Frypan, 11in
• Pan Protectors (Set of 3)
"Oh WOWZA~ What can I say? Just when you think you've uselessly tried every pan ever invented, desperately searching for that perfect mix of form and function, only to be disappointed.. along comes the answer to your wishes! Meyer has developed gorgeous cookware, with incredible function to go along with it!
Gone are the days when I take a gamble of my stack of pancakes and lose! These babies will now be perfect EVERY time, and I won't ever need to scrub a sticky mess off of my cookware again!  Thank you MEYER!"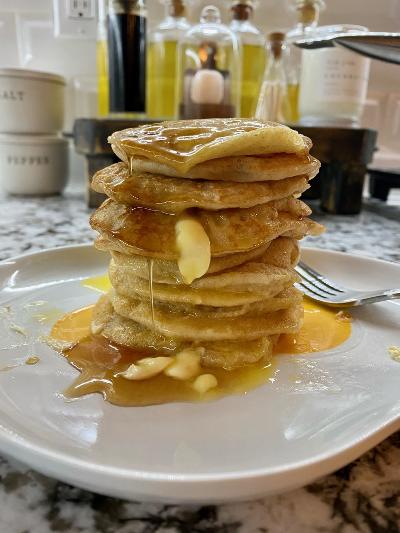 ---
Yes, you can have it all
Simply put: different materials cook differently. Nonstick aluminum, perfect for frying, heats up fast and cleans up in a flash. Sturdy stainless steel is superb for searing, simmering, and steaming. With our custom mix of these two excellent materials, you no longer have to choose.
Bye bye, boilovers
Our Accent Series pots all have the same superpower: catching messy boilovers in the kitchen. The pot's special curvature and rim design help keep the bubbles at bay much more effectively than regular straight-sided pots. A truly fuss-free design.
Put a lid on it
We feel ya. You go to grab a lid, and get swallowed up by a chaotic drawerful of nonsense. Will you ever find one that fits?! 😱
Despair no more. Our universal lids fit three sizes each, for good coverage without ridiculous overhang. They've also got a clever stacking feature, making them a dream to store.
No more cupboard chaos
Unlike so many other cookware sets, our pots and pans are designed to stack beautifully together for stress-free storage. You're welcome!
The science of comfort
Cushy and oh-so-grabbable, our handles provide a ridiculously comfy grip. We rigorously tested our designs with hands of all shapes and sizes, developing a unique curvature that is highly ergonomic. Read on and we'll tell you alllll about those curves.
We believe in the magic of a home-cooked meal. At Meyer, we want to help people everywhere feel inspired to explore the wonders of the kitchen.
Home cooking is good for the heart
We've seen it ourselves, in the homes we've visited — from Mumbai to Melbourne, and San Francisco to Shanghai — the warmth and joy people experience in the kitchen is universal. With the right tools and a bit of gumption, anyone can create a little magic on the stovetop.
Good design gets it
The vast majority of cookware you find on the market today is the way it is because "that's the way it's always been done," or "that's what everyone else does."
To us, that's just not good enough.
At Meyer, we design differently — by starting with our sleeves rolled up, in people's home kitchens around the world. We cook, dine, and clean with them to see what problems they experience every day. These journeys come back with us to the drawing board, where they give us the fuel we need to create unique, insightful designs.