Manuka honey is a powerful, natural superfood, full of essential vitality and optimized for life. The brand has a complete line of Manuka Honey, a complex and high-strength raw honey from the native New Zealand Manuka tree. As the bees gather nectar from the tree's flowers, they're helping bring a vital superfood to the lives of thousands who love what goes into their bodies to boost immunity and overall wellness.
This product delivers proven health benefits in gastrointestinal, immune support, skincare, haircare, first-aid, wound care, and oral health areas. Their honey is UMF Certified (Unique Manuka Factor), an important accreditation representing authenticity and the highest testing standards for any honey in the world. Try incorporating this honey with UMF 15+ during the month of September
Authentic Top Quality New Zealand Manuka Honey
You're living an active lifestyle and you care about what goes in (and on) your body. This UMF™ 15+ Manuka Honey is optimised for life, to help you get the most out of your day. It's great for anyone who wants to be empowered for everyday wellness.
As UMF™ gradings increase (from 5+ to 26+), the manuka honey becomes rarer, more difficult to source and offers a wider range of potential benefits. UMF™ 15+ sits in the middle, between everyday wellness and more therapeutic uses. For this reason, it's our all-time best selling Manuka honey.
Some of the most popular ways to use UMF™ 15+ include eating it straight for an immune boost, adding it to smoothies and teas as a healthy sweetener, pairing it with other superfoods for an extra wellness kick, helping with dandruff and acne, and soothing sore throats.
Your body is a temple, and the products you use directly affect your health. We go to great lengths to ensure that our UMF™ 15+ Manuka Honey is pure, unadulterated and sustainably produced.
Purely Manuka: bees fly far and wide to forage for nectar that they transform into honey. This manuka honey is monofloral, which means that the nectar comes from one main source: manuka (Leptospermum scoparium).
Proudly New Zealand Made: we're New Zealand owned and operated from hive to jar, and we have been around for a long time – our business is steeped in three generations of beekeeping. You can trust that what you're getting is the real deal. Pure, authentic and irresistibly appetizing.
Quality Comes First: authenticity extends beyond just the product itself. Our commitment to customers is that we will never let you down. We're always available to answer any questions, provide you with ideas for recipes and uses, and help in any way we can.
Officially UMF™ Certified: this honey is approved and certified by the UMF™ Honey Association, the official industry body for New Zealand manuka honey. UMF™ accredited honey is subject to the highest testing standards for any honey in the world. What does this mean for you? We don't just say it's good, we prove that every batch meets these standards.
Regenerative Apiculture: the manuka plant thrives in areas that are exposed to the elements. It helps to restore our native forests by providing canopy cover to protect the plants underneath, binding soil to prevent erosion and helping to kickstart the long term process of reforestation.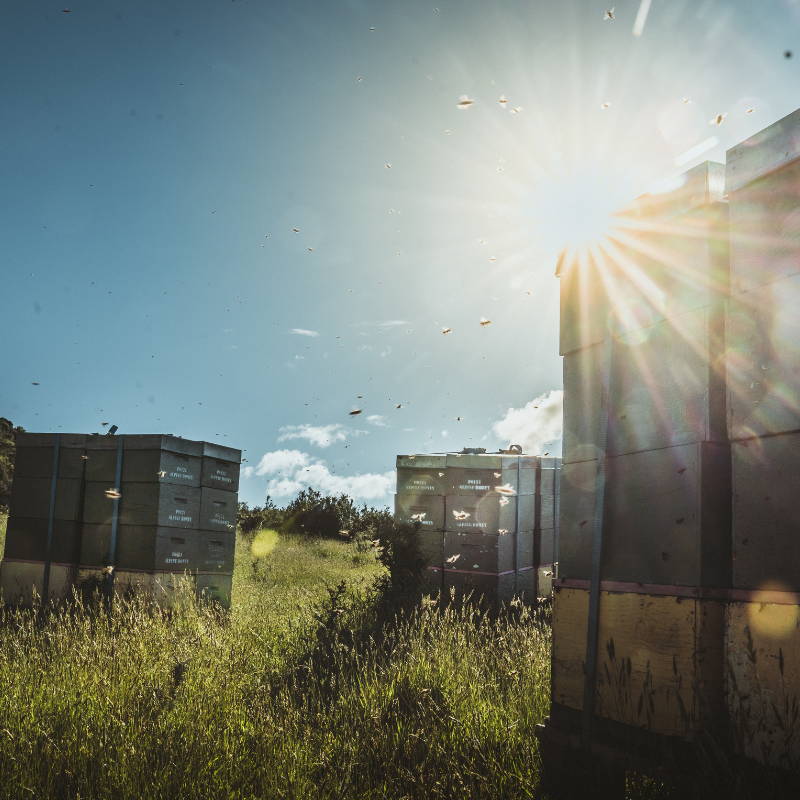 Hello,welcome to
New Zealand Honey Co.
We're all shades of play.
As a wellness company, we harness the power of nature to create exceptional quality, proactive health solutions.
To us, raw Manuka honey is one of New Zealand's very best offerings – so we carefully harvest and package this golden goodness – from everyday, to ultra-potent – in our colourful honey pots.
"Manuka honey is the distillation of nature. There aren't many products that 100% come from nature, and are so good for you, straight from the jar." – Scott Brundell, Co-Owner & Business Director, New Zealand Honey Co.
At New Zealand Honey Co., we're proud to be radically transparent. Straight from the source, our honey comes from hives throughout the wild, rugged landscapes of New Zealand. Our honey is traceable back to the hive, UMF™ certified and contains no GMOs, Glyphosate residue, antibiotics or additives.
We live by the principle that nature is best left untouched.
Home is where the honey is
Eyes on the hives.
Ah, New Zealand. The lush, green expanse at the bottom of the Pacific Ocean. Our home and the stomping ground of our bees.
Just like Champagne can only come from the Champagne region, authentic Manuka honey can only come from New Zealand – and we've become famous for our endemic treasure. The native Manuka shrub (Leptospermum scoparium) is a special plant and naturally thrives here. The nectar of its tiny pink or white flowers feeds the bees that make our delicious, raw honey.
"Manuka is one of the least intensive ways you can farm. What I love is that by selling Manuka, we're able to support the return of pastured land into natural, regenerated land. By planting Manuka, the land can thrive like it used to." – Marc Eurell, Co-Owner & Business Director, New Zealand Honey Co.
Rather than having hives of our own, we connect with the very best beekeepers to source the finest honey New Zealand has to offer. This means we can tap into every bountiful corner of the country – from Northland in the far north all the way down to the South Island's Otago region.
Our partner beekeepers, also known as apiarists, are experts in their trade. We collaborate with these wonderful people because they share our commitment to sustainability and quality. To make sure you only get the best pot of gold, we test for the presence of agrichemicals and other impurities. We're non-GMO verified and UMF™ certified, and meet a host of other environmental and purity accreditations. Every jar of our Manuka honey is traceable right back to the hive.