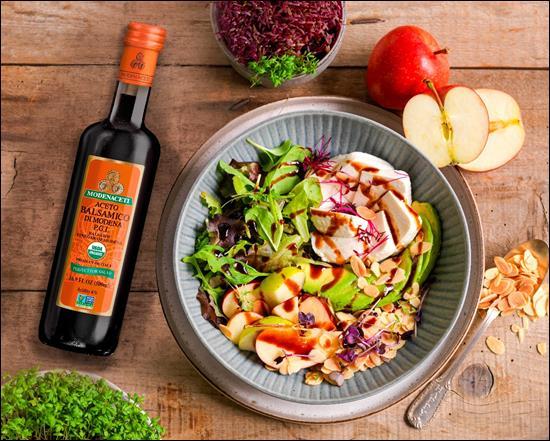 There are lots of staples in your refrigerator and your pantry that are considered the everyday "must-haves" that are your go to cooking essentials.
And most Americans don't think VINEGAR…maybe because they don't know how to cook with it, or maybe because they didn't know there is more than balsamic vinegar…We want Vinegar to be the NEW American Kitchen Must-Have Item, and we want to give you recipes and ideas from not one, but TWO of Italy's best Vinegars….nine generations of crafting vinegar, since 1787….that is a LOT of experience!
A DYNASTY SINCE 1787
Nine generations spanning 230 years craft and bottle Italy's best-selling balsamic vinegar
Established in 1787 and operated on the same rolling green vineyards in the Emilia-Romagna region of Northern Italy, Ponti is synonymous with purity, quality and transparency. For those looking for a balsamic vinegar that's rooted in Italian culture, steeped in expertise, and driven by the passions passed down by nine generations of family, look to Ponti.
From balsamic to apple cider and wine vinegars, Ponti is Italian. It is the #1 vinegar brand in Italy for a reason, and it is available for you here in the states!
VINEGAR IS AN ART
For our Classic Wine Vinegar , Ponti expertly selects the best wines to make a superior vinegar whose quality is constant and always recognizable, with the same aromas and the same characteristics.
Their ability to select, their capacity to choose the most appropriate wines, is evidence of their enormous experience and sensibility. Aroma Antico, for example, is made using exclusively Italian wines and aged according to the original Ponti recipe dating back to 1969, while for their Single Variety Vinegars they use only Chianti DOCG and Pinot Bianco dell'Oltrepò Pavese DOC.
To craft their balsamic vinegars – Aceto Balsamico di Modena – Ponti follows strict rules set forth by the product specification, which maintains the quality of production in vinegar cellars using grapes only from Lambrusco, Sangiovese, Trebbiano, Albana, Ancellotta, Fortana and Montuni. Since Ponti has been pivotal in balsamic production for generations, it matures its casks of fine wood in cellars at certain temperatures and aeration conditions.
The result is a line of vinegars that emulate the product first notably enjoyed by Emperor Henry III in 1046. The standards may be that of royalty, but the product is for everyone looking to invite incredible flavors into their kitchen.
Whether it is a simple, fresh Caprese Salad with vine ripe tomatoes from the garden, or something a little more exotic like Grilled Octopus with Lemon Thyme, Ponti is there to dress up what ever you serve this summer…from salads to dessert.  
Want more great recipes? Visit: https://www.ponti.com/us/recipes/
To learn more about Ponti, its family history, heritage and products, visit their website.
From small business to major company. From local to international.
Our first 230 years are filled with events and achievements that have allowed us to become the Italians' favourite vinegar.
The best part of our history? The part that's yet to come.
THE ORIGINS OF THE PONTI
FAMILY AND THE VINEGAR FACTORY
MEANWHILE, AROUND THE WORLD
1620 | The Mayflower, the ship of the Pilgrim Fathers, lands on the coast of America.
In Sizzano in the province of Novara, Giovanni del Ponte, son of the late Bartolomeo, is documented for the first time.
Vittore del Ponte is the owner of the tavern in Sizzano.