Ok, so ever since I created teeny tiny Taco Salad Sliders..I've been dreaming about eating one of those huge, lettuce-less, sinful, drive-thru butt enlarger "salads"!  Luckily (I think).. I'd never even let the order escape my lips, unless of course it was my last meal and/or I'd been stranded on an island and hadn't eaten for 2 weeks!  But, other than that..never!  That left me with a huge problem, because once a forbidden food gets embedded into my brain..there's NO stopping it!
I had no choice but to create one at home!  One that offers all of the naughty greatness of the original 5 million calorie version..with hardly any of the naughty!  I present to you the un-fried, crispy & huge, filled to the rim, beefy, cheesy, beany..and dare I say, healthy, Taco Salad!  Problem. Is. Solved!  🙂
I found these amazing & ginormous Jalapeno Cheddar Tortillas and at that moment knew that I had to bake them, stuff them & consume them immediately!  Five minutes in the oven turned them into a crispy, baked and beautiful bowl!  These bowls just begged to be filled with creamy, fat-free re-fried beans, Taco Bell spiced lean beef, spicy peppers and yep..even lettuce!  Top it off with lite Sour Cream & a dash of Hot Sauce, now it's Taco Salad Heaven baby!
What you'll need for 4 huge salads: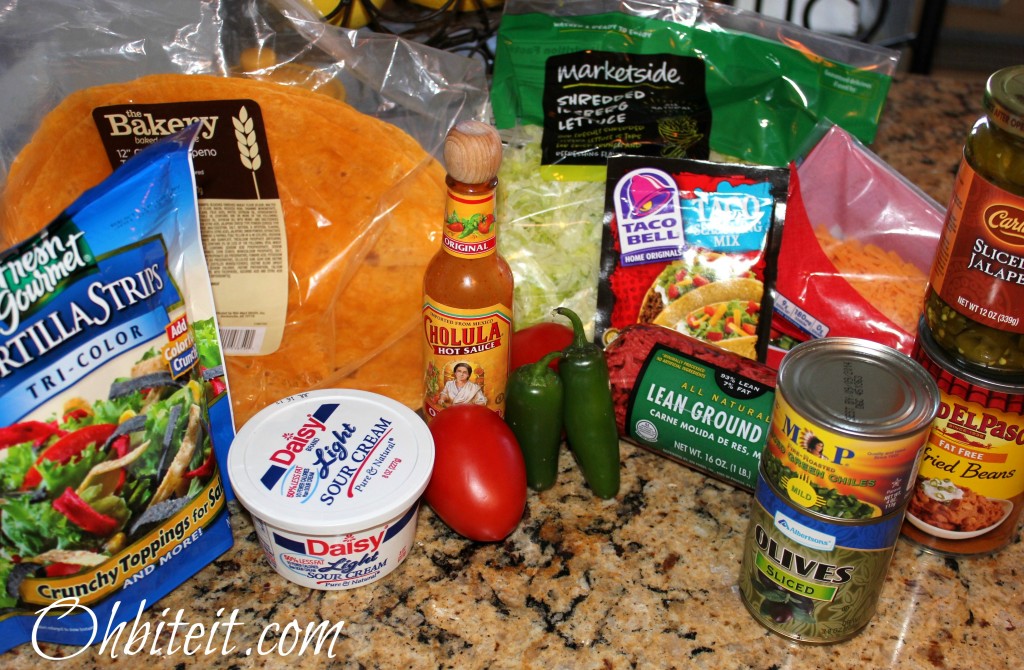 4 large flour Tortillas  (I used Jalapeno Cheddar..but any variety will work)
2 lb. Lean Ground Beef
1 large bag of Shredded Lettuce
Shredded Cheddar..as much as you want!  (not shown)
1 can of Fat Free Re-Fried Beans
2 Chopped Tomatoes
2 sliced Jalapenos (optional)
1 can of chopped Green Chile
1 packet of Taco Bell Taco Seasoning
2 cups Shredded Cheddar
1 cup of Lite or Fat Free Sour Cream
Hot Sauce  (optional)
Tri-Color Tortilla Strips..these can be hard to find, so you can just crush up some Tortilla Chips instead!
Directions:
In a round baking pan place a tortilla and ruffle the edges.  Bake at 350 for about 5 minutes, or until it gets firm and toasty!
They get SO pretty! The perfect bowl for just about anything! 🙂
In a medium pan, cook up the beef with the Taco Bell Seasoning, and the can of Chopped Green Chile..until the beef is fully cooked.
Let the beef cool slightly & start filling that baby up!
Warm up the beans and smear a layer of them onto the bottom of the shell, they provide a great base.  Pile on some of the beef, and top it with the lettuce, tomato, sliced jalapenos, shredded cheddar, and sour cream!  Add a few drops of hot sauce..if you dare!
Serve up this amazing & guilt free Taco Salad, listen for the ooo's & ahhh's!  Crack into the delicious baked shell.
As a bonus you won't have to unbutton your pants..haha!  ~Enjoy!  🙂