Everyday we're faced with that one question that can either totally excite us or send us into a frenzied panic!  It's that one question that will test our imagination, creativity and people pleasing powers all at the same time..yep, it's "What's for Dinner?"  Finding an answer to that question is usually pretty difficult…until now!
According to the 'Dinner Police' a.k.a The Family, dinner must be something that hasn't been served within the last week, is hot and on the table before anyone can scream that they're starving to death, and of course, tastes ahh-mazing!
Well, I think I've got it, and you'll even have time & energy to spare!  Not only are these Stuffed Chiles incredibly simple, but the flavor payoff is HUGE! 🙂
These super simple Stuffed Chiles are almost like Chicken Enchiladas met Chile Rellenos and had a love child. A love child that's wrapped snuggly inside a crispy Bacon blanket..haha!
By looking at these beauties, you'd never guess how simple & easy they are to make!  Your Wednesday evening will feel like a Friday with one serving of these Stuffed, Cheesy, Bacony, Green Chiles!
They're totally packed with slow roasted Chicken that's been shredded for the most succulent and juicy flavors ever.  Then the chicken is lovingly mixed into a creamy, slightly spicy & cheesy filling.  After the Chiles are stuffed with the ahh-mazing filling, they proceed to get hugged tightly by super crisp, seasoned & smoky bacon!
Seriously UN. REAL!  🙂
And the best part is..your oven will do all of the work!  So spice up your dinner doldrums and go make these Stuffed Chiles ASAP!!!!  🙂
 What you'll need for 12 giant Stuffed Chiles:
12 large Green Chile Peppers (Or if you can't find Green Chiles..any grocery store Pepper/Chile will work)
4 medium Boneless/Skinless Chicken Breasts (OR one whole cooked rotisserie Chicken form the store)
1lb Bacon
1 container of Cream Cheese
2 Cups..or so, of Shredded Pepper Jack Cheese
3 tbsp. Chile powder
3 tbsp. Oregano
A drizzle of Olive Oil
S&P to taste
Directions:
Heat a large pot of water to boiling.  Add the Chile Peppers and boil them for 4 minutes, remove them from the pot and let them drain & cool on some paper towel.
Preheat the oven to 400 degrees.  Place the Chicken on a baking sheet.  Drizzle it with some Olive Oil and S&P to taste.  Roast the chicken until it's fully cooked and tender.  This step can be skipped if you use a store bought Roasted Whole Chicken..a terrific time saver!
Let the chicken cool and then shred it up using two forks.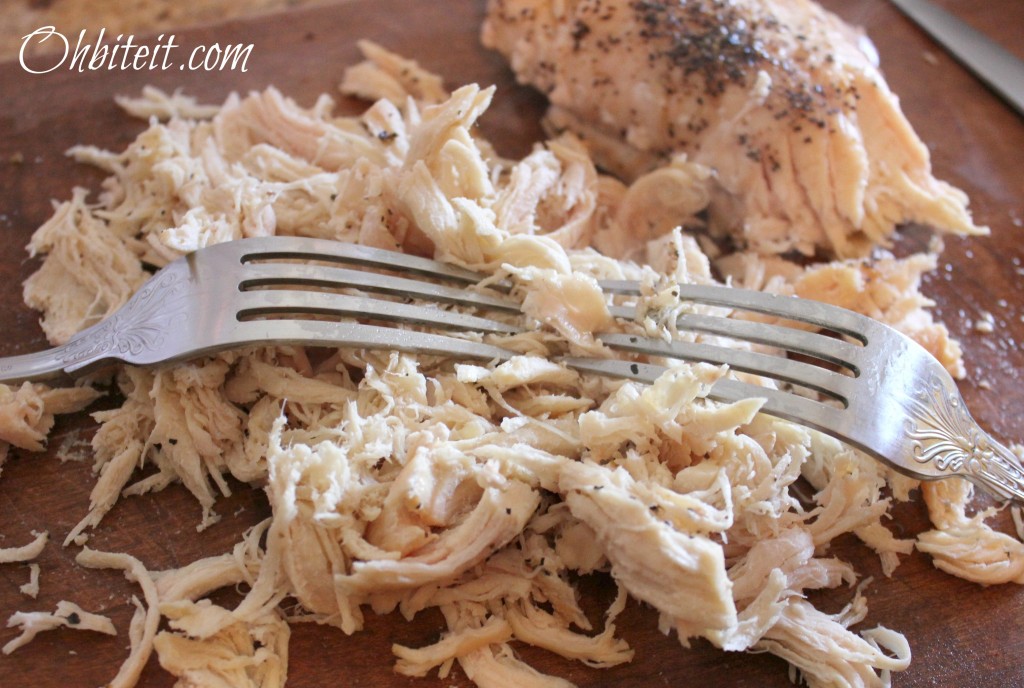 Take each cooled Chile pepper and carefully make a slit from the top of the pepper almost to the bottom point.  Remove seeds (rinsing them under cold water works great)
Add the Chile Powder & Oregano into a pie plate or shallow dish..mix well to combine..and set aside.
In a large bowl add the Shredded Chicken, Cream Cheese and Pepper Jack Cheese..combine well!
Take each prepared Chile and stuff it with 2-3 tbsp. of the Chicken/cheese mixture, depending on the size of the pepper.
Wrap the pepper with the Bacon, and roll it in the Chile Powder/Oregano mixture.
Place the pepper stuffing side up, onto the prepared baking rack.  Making sure to tuck the bacon ends under the Chile to bake.
Bake for 25-30 minutes at 375 degrees..or until the Bacon is crispy and the Pepper is tender!
Serve these while they're warm, crispy & melty!
Now, dig into a delicious bacon wrapped, cheesy, spicy taste of NM!!  ~Enjoy!  🙂