This fabulous duo of deliciousness was inspired and brought to you by TOP CHEF!  Last week's episode featured creative Berry recipes fresh from the Chef'testant's visit to a Berry Farm.  The gorgeous farm land was over-shadowed by the dark, ugly cloud of healthy competition and "F" bombs..HAHA!
The night started out full of surprises!  Every ingredient was wrapped in foil and no one knew what the heck they were grabbing.  To top it off, all of those unknown items had to be cooked in foil as well.  Oh, and they had to taste amazing too..no pressure!
As always..it was a blast to watch!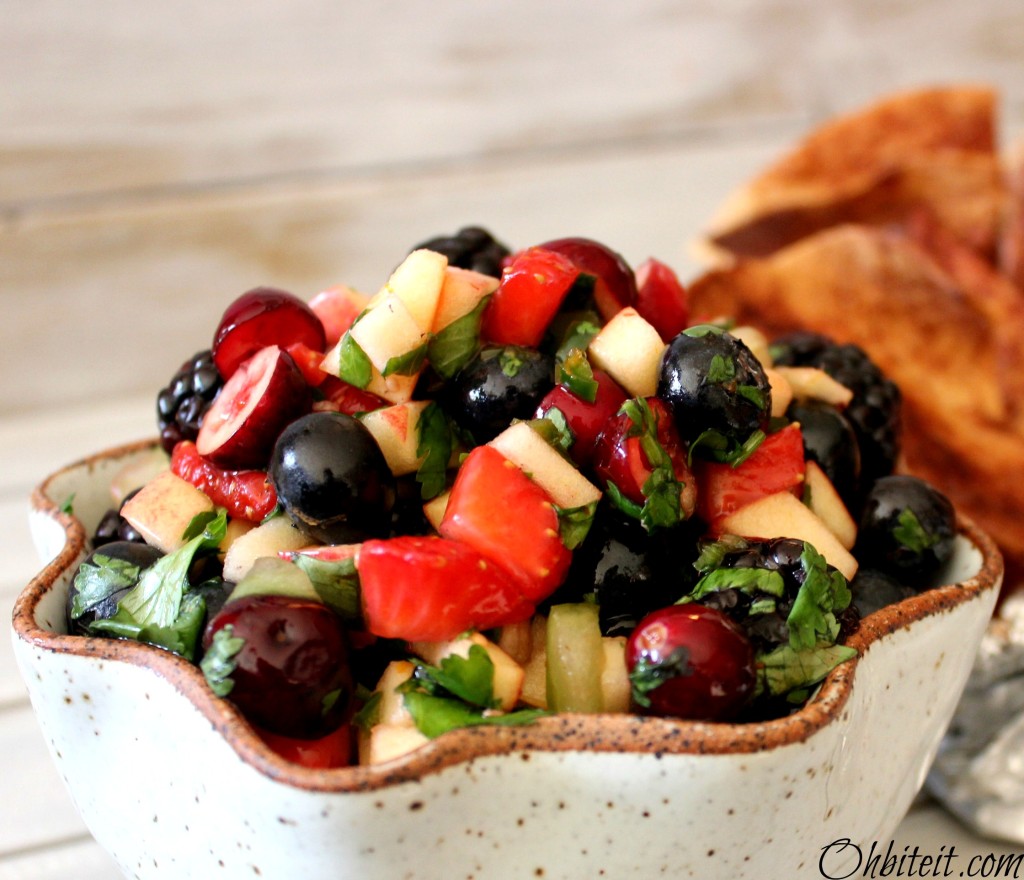 I say this after every episode, but this one was totally "made for me"!  Not only do I absolutely adore Berries, Farms, surprises and "F" bombs, but I have an obsession with wrapping food in foil!  I'm not exactly sure what about it excites me so much, maybe it's the "camping feel" it gives to the food, or the fact that I can throw it away when I'm done, but I love it!
Out of everything I've ever made in foil, these Cinnamon Chips are by far the BEST!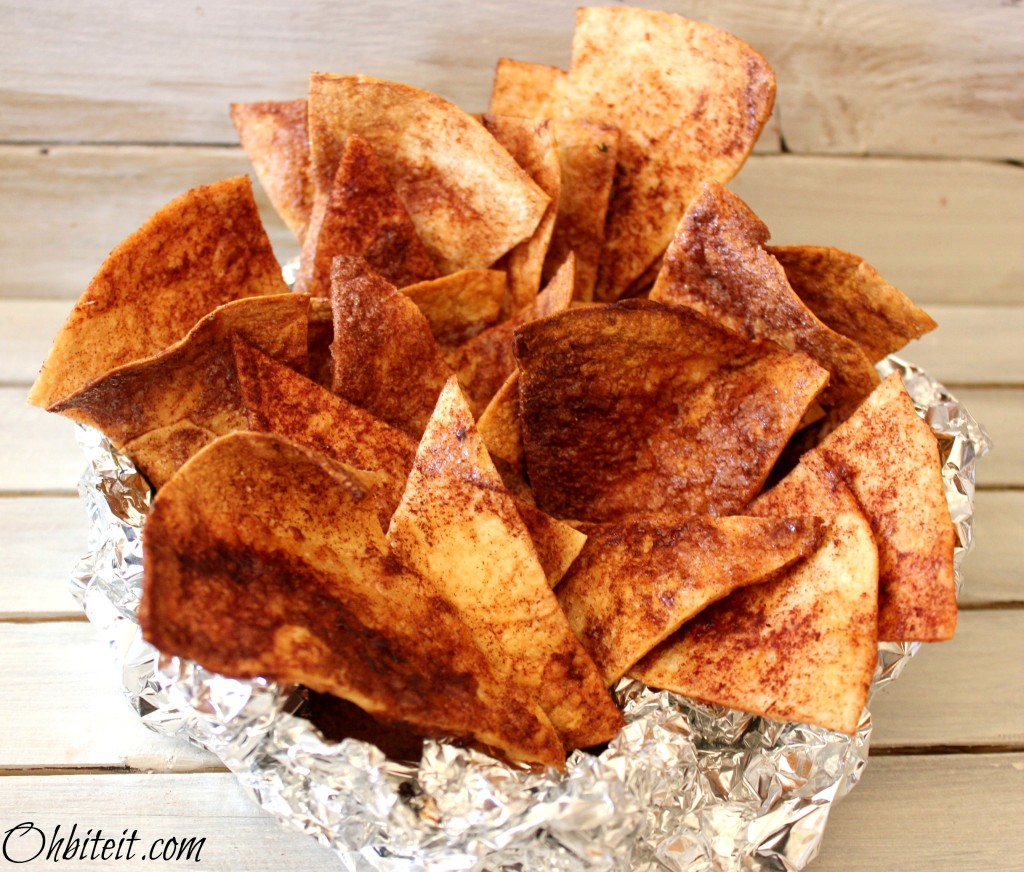 They're such a perfect compliment to this fresh, sassy, sweet, fruity & fun Salsa! 🙂
What you'll need: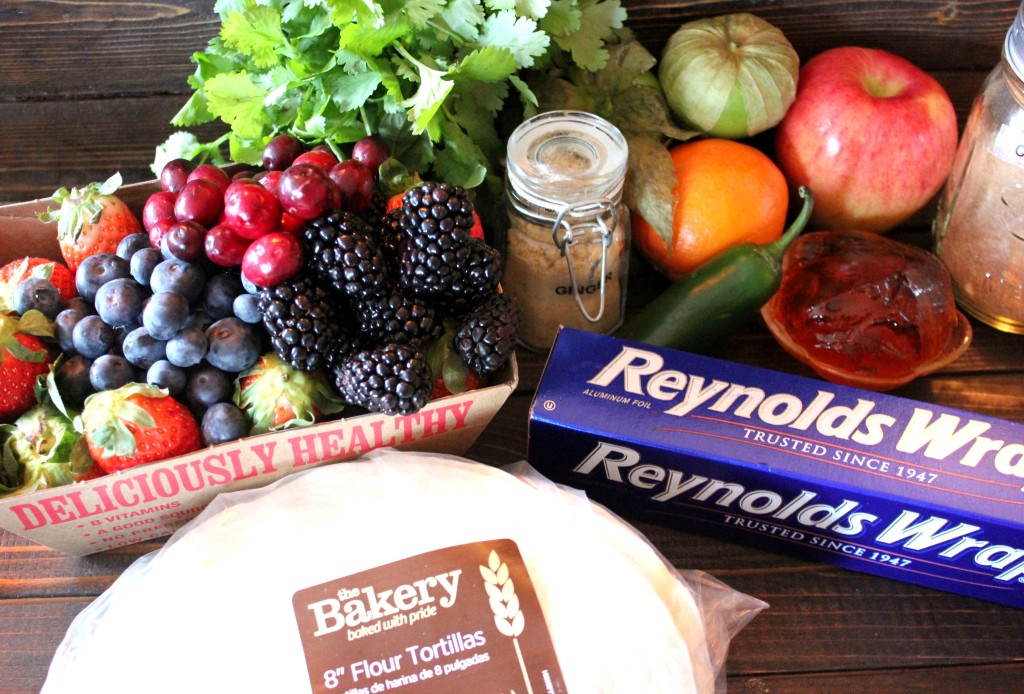 A love for chopping fruit, LOTS of fruit chopping required..lol!
FYI: You can mix and match the fruit according to your taste and availability.
1 Cup of Strawberries..chopped in small pieces
1 Cup of Blueberries..left whole
1 Cup of fresh Cranberries..cut in half
1 Cup of Blackberries..left whole
1 small Apple…diced
1 Jalapeno Pepper..diced small!  (Optional)
2 med. Tomatillos..chopped  (of you can't find Tomatillos in your store, just leave them out)
1 Orange worth of zest and its juice!
1 Cup of Cilantro..chopped
1/2 Cup Apple Jelly
2 tbsp. Melted Butter
1 Cup Cinnamon Sugar
Directions:
In a med. bowl mix together the Apple Jelly, the Zest & Juice from the Orange, and the diced Jalapeno.  Microwave the mixture for about 20 seconds just to smooth out any lumps…
After you've cramped your hand chopped all the fruit, add it all into a large bowl and gently mix in the Cilantro.  Mix carefully so you don't break any of the whole fruits.
Add the Apple Jelly Glaze to the fruit and let it sit and absorb the flavors while you make the Chips!  Stir them every now and then to keep them evenly coated in the Glaze…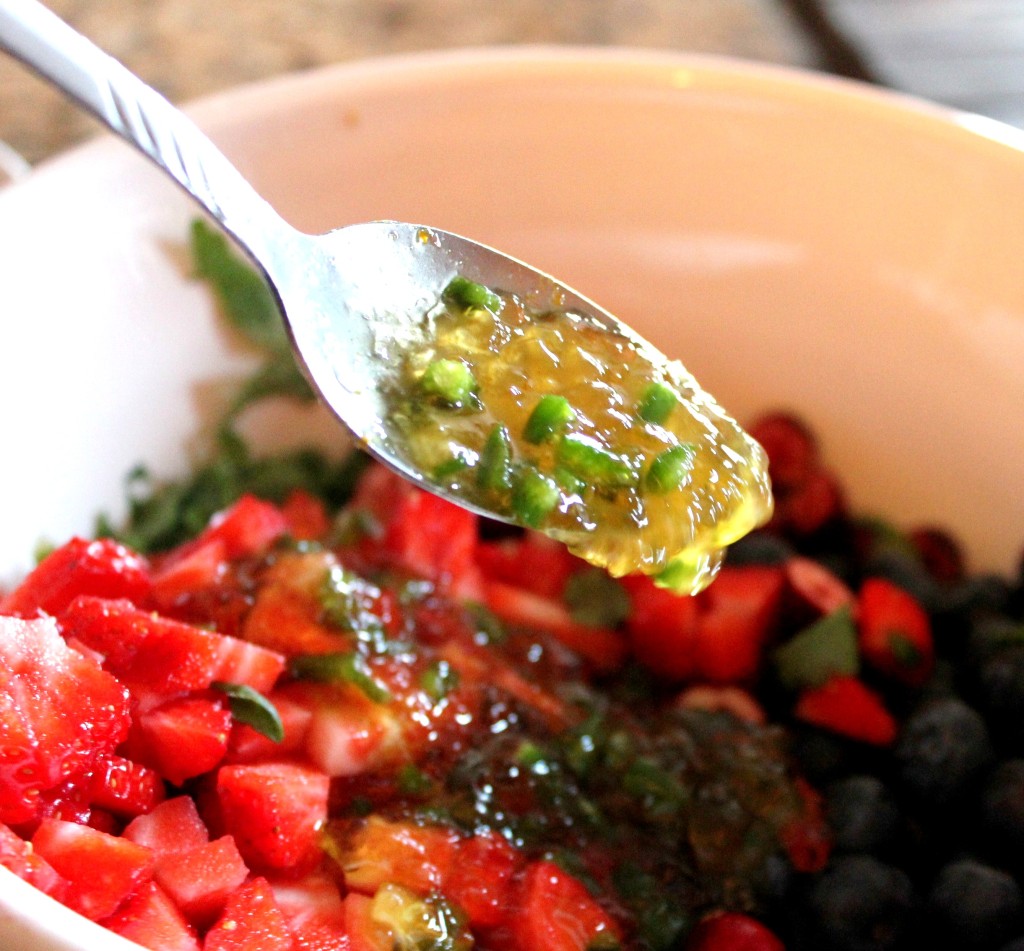 Admire the stunning & glistening beauty of the sweet & spicy glazed Salsa…
Now, let's make no dirty dishes Cinnamon Chips, in foil!  Each Tortilla makes 8 Chips so make as many as you'd like!  🙂
First brush both sides of each Tortilla with the melted Butter…
Sprinkle both sides with Cinnamon Sugar…
Cut the Tortillas into even wedges, like a Pizza…
Place all the wedges into a foil "bowl" and loosely close the foil up.  Bake the packet at 400 degrees for approx. 15 minutes, or until the Chips are golden and crispy…
Serve them warm with the fresh, cold Salsa…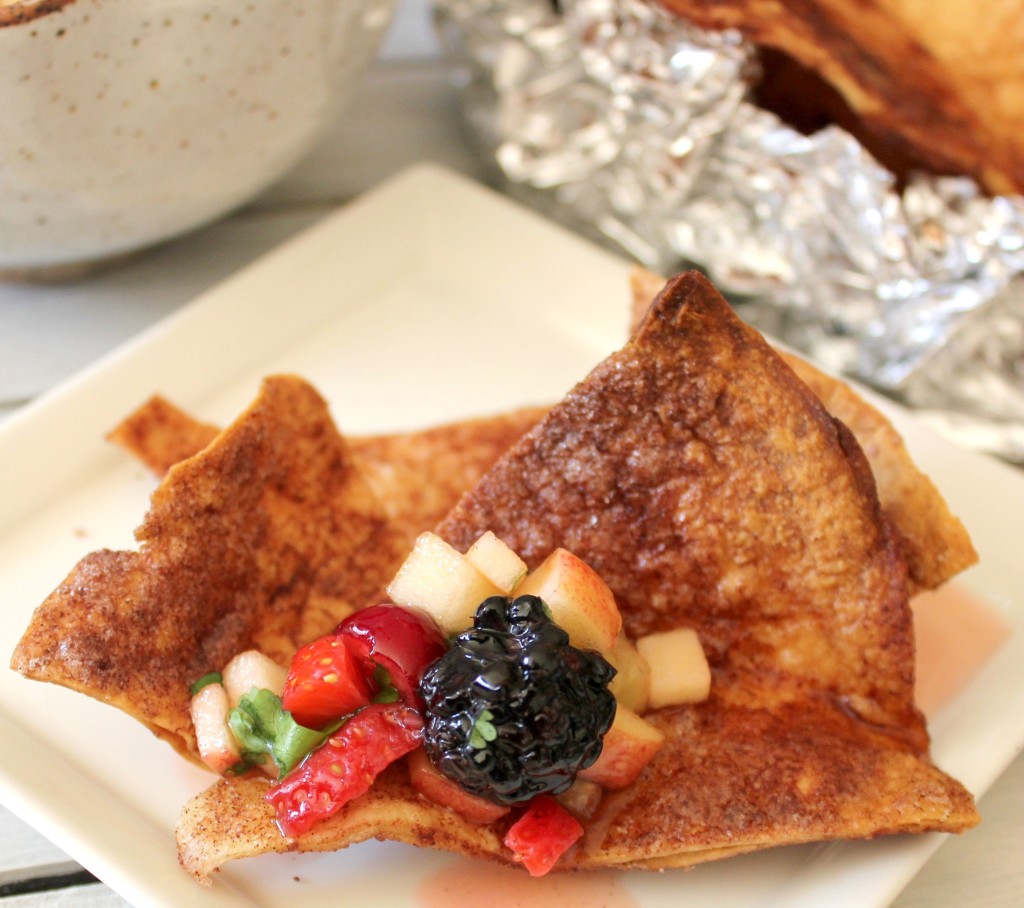 And have yourself the BEST Berry Salsa bite EVER!  ~Enjoy! 🙂
I'm required to disclose a relationship between our site and Bravo. This could include the Bravo providing us w/content, product, access or other forms of payment.