So, last week's episode of Top Chef was, how shall I say..ummm…deliciously interesting!
The Quickfire Challenge was a test of tolerance, skill & experience, as each Chef'testant had to prepare Sushi.  But, as the night went on, last nerves totally got tested as fragile egos and stubborn pride took a beating.  The Elimination Challenge offered up its own share of jitters as the simple yet so NOT simple "Fried Chicken" was the chosen menu item.  Yeah..it only had to be served to a table of Every. Single. Legendary. Chef that has ever existed..no pressure!  😉
~Pass that wine..lol!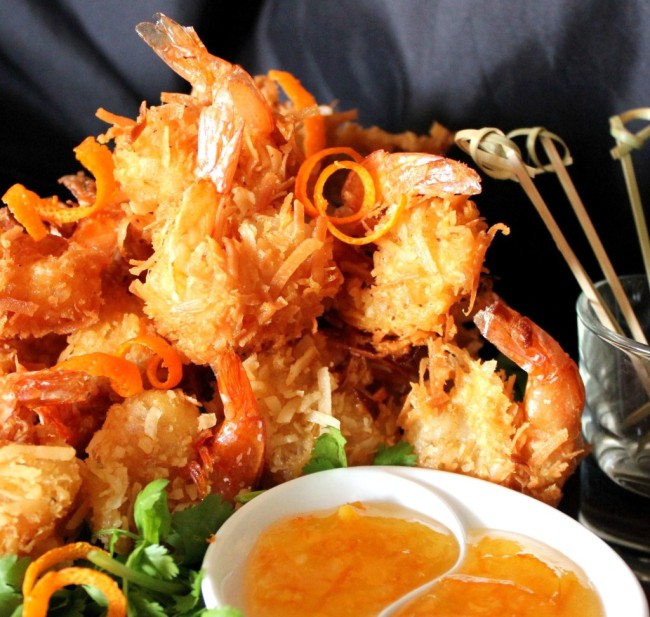 The night left me inspired to create something crispy and fried, while still incorporating an Asian flair.  Sushi was out of the question since it would've totally looked like a blind person made it (no offense to blind Sushi Chefs!)
Besides, I just featured a huge pile of Applewood Bacon Chicken Wings on the blog, and really didn't need mooore Chicken.
~This Coconut Fried Shrimp was the winner of the night…over here at least! 🙂
Sweet & crispy Coconut adds a major crunch, while highlighting these succulent Jumbo Shrimp!  Dip them into some spicy Orange/Wasabi Marmalade and you've got the perfect bite of decadence!
What you'll need:
1 lb. Raw Shrimp..I used "Easy Peel" (pre-cleaned/peeled)
1 cup Flour
1 cup Cornstarch
4 tsp. Baking Powder
Pinch of Salt
1 tsp. Cajun Seasoning
1 Cup cold Water (give or take for a cake batter-like consistency)
2 cups Shredded and Sweetened Coconut
1  cup Orange Marmalade
1 tbsp. Wasabi Powder (or Wasabi Paste)..TO TASTE!
The juice of half an Orange..plus its Zest for garnish!
Oil for frying..I used Canola
Directions:
In a medium bowl mix the batter: Flour, Baking Powder, Water, Salt, Cajun Seasoning and Cornstarch..combine until it's a smooth,  cake batter-like thickness.
Dry off the Shrimp and remove the peel leaving the tail ON!
In a shallow bowl add the Coconut.  Dip each Shrimp into the batter and then into the Coconut, making sure to get a nice coating evenly on the Shrimp…
Fry them up in batches of 3 or 4 until they're golden on all sides.  Drain them on Paper Towel.
Zest some of the Orange if you'd like..for garnish, set aside.
Mix together the Orange Marmalade with the juice of half the Orange and some Wasabi Powder…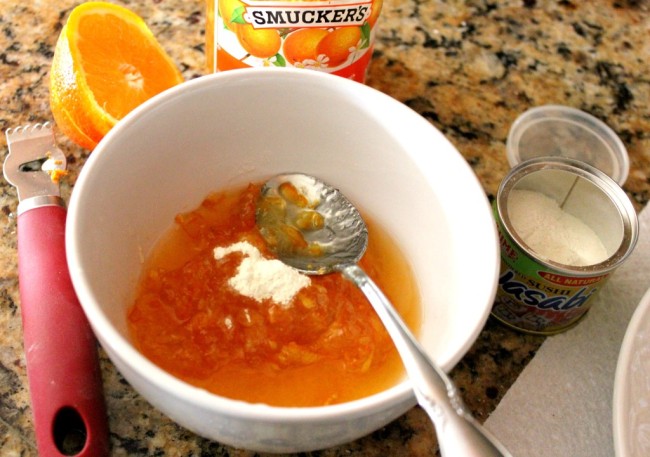 Serve it along side the Shrimp…
Grab a plate and get your Coconut Shrimp on…
Take a crunchy, sweet succulent bite!  ~Enjoy! 🙂
Be sure to watch Top Chef with me this Wednesday 10/9c. on BRAVO!  🙂
I'm required to disclose a relationship between our site and Bravo. This could include the Bravo providing us w/content, product, access or other forms of payment.