I've never been much of a baked apple person, something about the mushy Apples that should be in a Pie but aren't, just never did it for me.  BUT, like magic…add some Butter, Caramel, Toffee Bits and of course…Booze and now~NOW I suddenly love them!  😉
These super simple stacks will make everyone feel like they're in a five star Bed & Breakfast, or at the very least, a warm, cozy holiday dinner with ALL of  the family gathered around not arguing at all!  Feel free to add extra Bourbon for the family dinner scenario…jussst kidding!
Anyway, you get the idea….minimal effort/maximum result~ as usual!  🙂
What you'll need for 4 succulent Apple stacks:
4 medium Apples…your favorite variety
1/4 cup Toffee Bits…for topping
1/2 cup Caramel Sauce divided~~1/4 cup for the simmer sauce and 1/4 cup for the topping.
A baking dish..
The simmer sauce:
4 tablespoons Butter
2 tablespoons Bourbon
1/4 cup Caramel…I used store bought~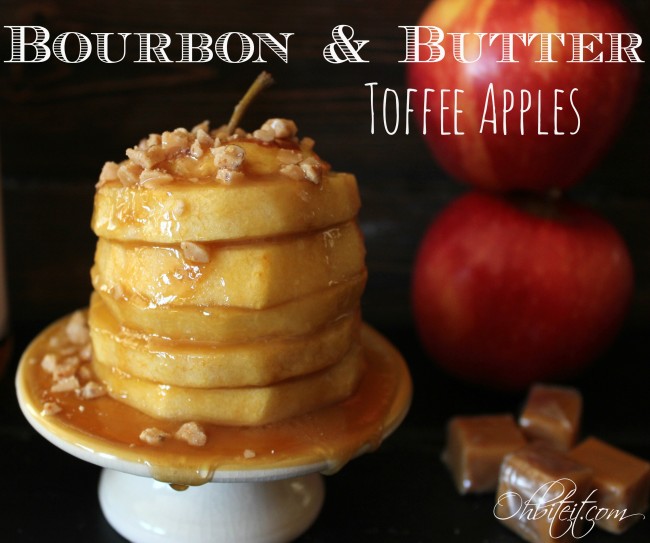 Directions:
Peel and core the Apples…
Slice each Apple horizontally into 4 or 5 slices.  Then reassemble them into a stack.
Now make the simmer sauce> in a medium pot, melt the Butter into the Bourbon and 1/4 cup Caramel Sauce until well combined…
Pour the Sauce over each of the Apples, making sure to coat them all as evenly as possible…
Bake them at 375 degrees for about 60 minutes, or until fork tender.  Baste every 15 minutes with the butter mixture drippings in the baking dish.  I even separated the slices to roll them around in the sauce..then re-stacked them to serve~I like all that sauce!
Serve them in pretty stacks and add some of the reserved Caramel right over the top~and a sprinkling of Toffee Bits for that sweet crunch…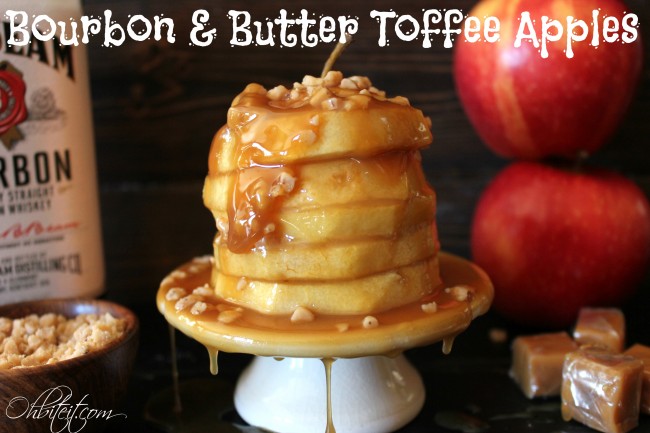 They're too good not to share…
So grab a pretty plate…
And share with umm…yourself!  You deserve it..lol!  ~Enjoy!  🙂