Recently I had the amazing opportunity to wrap my lips around TWO incredible varieties of >>wait for it>> Country Crock's BUTTERY SPREAD!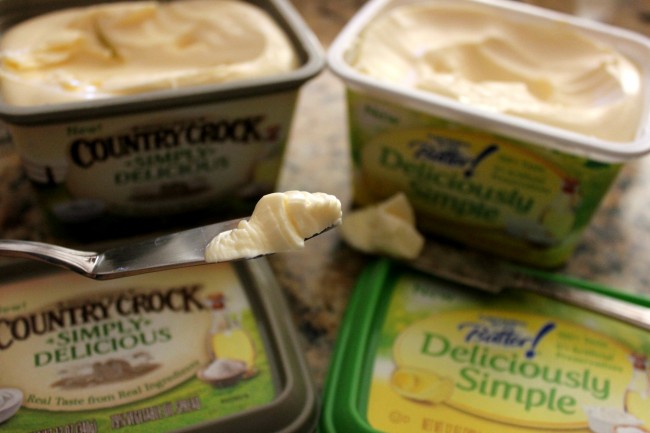 Not just any Buttery Spread, this is Country Crock's "Simply Delicious" and "Deliciously Simple" Buttery Spread.  Talk about decadent!  It was all I could do not to grab a spoon and dive right in the moment that I opened the lid and saw that perfect swirly dollop of smooth, virgin, buttery goodness!
I was so impressed with the all natural ingredients, like Yogurt.  The flavor was rich, creamy, succulent and dreamy!  Such a smooth and delicious addition to many recipes and side dishes, especially this time of year!
The Buttery Spread was so scrumptious, I could've seriously eaten it as is, but luckily I controlled myself  long to create this ALL Butter stack of Pancakes!  Mmmhmmm~~each Pancake is filled with Batter & Butter…Butter & Batter…that's IT!  No liquid in this buttery batter baby!
Yep…this succulent stack is dripping in Buttery goodness, inside and out!  With a glossy drizzle of Butter's Bestie…Honey!!  🙂
What you'll need:
Pancake Mix
Enough melted Country Crock's Buttery Spread to replace the liquid measure called for on your pancake mix box instructions…for me it was 1 cup melted butter…
Extra Buttery goodness for topping…
Honey for drizzling…optional!
Directions:
In a medium bowl mix up the Pancake Mix with the melted butter spread (replace the liquid in the box instructions) if you need a few splashes of water to get a batter consistency, add a splash or 2…
Mix it up…
Griddle up those buttery cakes as you normally do, and then guess what??!!
YEP~ Top them with…more BUTTERY deliciousness!
And some thick Honey…
Plate them up…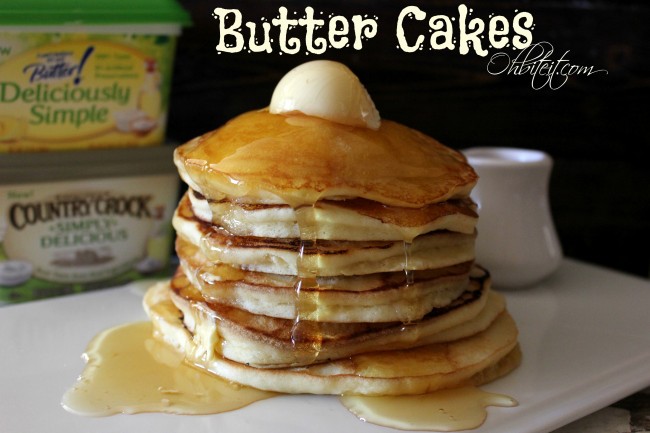 And climb that stack with your lips!  ~Enjoy!  🙂
This amazing Butter Basket was provided by "I can't believe it's not Butter!"…ALL opinions are my own!  #simplydelicious #deliciouslysimple